Central Valley Health Policy Institute
Cindy Ballesteros
Research Assistant/Grant Analyst
Cindy Ballesteros joined the Central Valley Health Policy Institute in the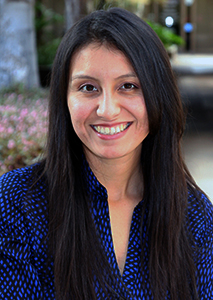 summer of 2011. She takes part in the evaluation team for the Teen Pregnancy Prevention Program (TPP) grant, which is in collaboration with Tulare Community Health Clinic (TCHC). She manages all data collection, analysis, and fidelity monitoring. She also has experience with planning, implementation, and conducting focus groups.
Cindy has a passion for teaching and working with youth. She facilitates the Reducing the Risk (RTR) and Draw the Line/Respect the Line (DTL) curriculums in Tulare Joint Union High School District.
Cindy graduated with her Bachelor of Science degree in Public Health, with an emphasis in Community Health at California State University, Fresno and is currently working towards a Master's degree in School Psychology.
Contact Information
Cindy Ballesteros, B.S.
Research Assistant/Grant Analyst
Central Valley Health Policy Institute
Phone: (559) 228-2140
Fax: (559) 228-2168
Email Cindy Ballesteros