Central Valley Health Policy Institute
Thomas Ngo
Research Assistant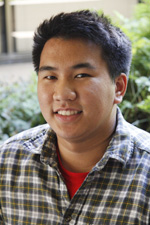 Thomas Ngo joined Central Valley Health Policy Institute (CVHPI) in the summer of 2009 where he started off as a Health Career Connection Intern. He is now a Research Assistant at the CVHPI focusing on grant and program implementation and administration.
Prior to joining CVHPI, Thomas was a Coordinator for an alcohol education program called the Social Norms at California State University, Fresno (CSUF). He has dealt with all aspects of the program that includes planning, implementation, and evaluation. He also conducted and overlooked focus groups and surveys.
Thomas graduated from CSUF with his degree in Public Health with a Community Health emphasis and is currently working on his Masters of Public Health.