Central Valley Health Policy Institute
Kudzai Nyandoro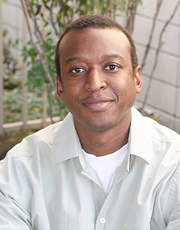 Kudzai Nyandoro is a Research Assistant at the Central Valley Health Policy Institute. His pri mary focus is in national health care reform.
Before joining the institute, Kudzai was an intern at Kaiser Permanente, Fresno, where he helped in evaluating Kaiser's smoking secession program. He also worked on increasing the use of Kaiser's online health manager by its Fresno area members.
In the spring of 2008, Kudzai acquired his B.S. degree in Health Science with a Community Health emphasis from California State University, Fresno. As of fall 2008 he has been working on his Master of Public Health degree, focused in Health Policy and Management.
Contact Information
Kudzai Nyandoro, B.S.
Research Assistant
Central Valley Health Policy Institute
Phone: (559) 228-2153
Fax: (559) 228-2168
Email: Kudzai Nyandoro