Central Valley Health Policy Institute
Diana Traje, MPH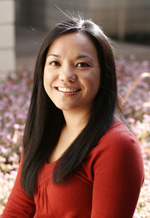 Diana Traje joined the Central Valley Health Policy Institute as a Health Policy Analyst in May 2008. Diana has a Bachelor of Science degree in Human Development from the University of California, Davis and a Master of Public Health degree with an emphasis in Health Promotion from California State University, Fresno.
Diana has six years of public health research experience in an academic setting. She has researched best practices and policies in the areas of access to health care services, immigrant health, and safety-net provider systems. She recently completed the Health Policy Leadership Program where she studied health inequities, environmental and policy influences on health, and access to health care in low-income and rural communities.
Prior to working at CVHPI, Diana was a Senior Project Assistant for the Social Norms Program at Fresno State. She planned, implemented, and evaluated alcohol education programs. She also served as the co-investigator of the 2007 and 2008 National College Health Assessment survey.
Contact Information
Diana Traje, MPH
Health Policy Analyst
Central Valley Health Policy Institute
Central California Center for Health & Human Services
California State University, Fresno
1625 E. Shaw Ave. Suite 146 | Fresno, CA 93710
Phone: (559) 228-2154 | Fax: (559) 228-2168
dtraje@csufresno.edu