College of Health and Human Services

College of Health and Human Services Commencement
Check back here for information regarding 2023 Commencement.
---
Congratulations to each of our CHHS graduates! Please check this page for the latest Commencement updates.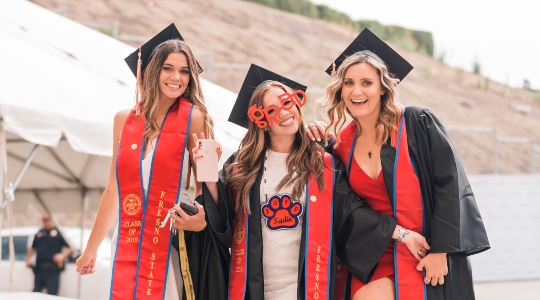 Registration
Students are eligible to participate if they have graduated in Summer or Fall 2022, have applied to graduate in Spring 2023 or plan to graduate in Summer or Fall 2023. Registration closes Friday, April 21.
Register Now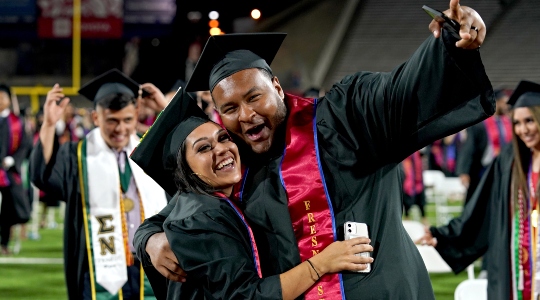 Frequently Asked Questions
We look forward to celebrating each of our graduates! Get the latest updates about our CHHS ceremony and find answers to your questions here.
View FAQs
University and Save Mart Center Guidelines:
The California Department of Public Health strongly recommends that all persons, regardless of vaccination status, continue to mask while in indoor public settings and businesses. The Save Mart Center will no longer be requiring proof of vaccination or negative COVID test upon entry to the arena effective April 1, 2022. The University continues to adhere to state and local public health guidelines. Should conditions within Fresno County change, it may be necessary to alter these plans.
---

Meet our 2022 Dean's Medalists
Graduate Dean's Medalist
Rebekah Weimer earned her M.A. in kinesiology with an option in sport psychology with a 4.0 GPA. She previously earned a B.A. in psychology, with a minor in human development, from the University of California, Davis. Weimer's thesis was a case study with a community college soccer team in which she investigated the extent to which athletes can learn specific mental skills and use them when training. She plans to pursue a second master's degree in clinical rehabilitation and mental health counseling at Fresno State, with the goal of becoming a certified mental performance consultant. Read more about Rebekah Weimer
Undergraduate Dean's Medalist
Karina Ortega earned her B.A. in social work with a 4.0 GPA. Being a child of Mexican immigrants has given Ortega a nuanced understanding of what many Central Valley families go through. During her sophomore year, she helped execute the first ever First-Generation INSPIRE conference at her alma mater, Edison High School, to promote post-secondary education to families in southwest Fresno. Ortega will pursue her master's degree in social work at Fresno State and a pupil personnel services credential so she can become a school social worker, and later, a licensed clinical social worker. Read more about Karina Ortega
---
View our past ceremonies
May 14, 2021 • Bulldog Stadium
May 18, 2019 • Save Mart Center
View the livestream of our 2022 Commencement Ceremony on the official Fresno State Commencement webpage.