College of Health and Human Services

Honors Program in Collaborative Leadership
Fostering academic leaders within our college
The mission of the Honors Program is to provide scholarly, creative and motivated upper-division students in the College of Health and Human Services an enhanced educational experience through advanced study and interdisciplinary engagement with their peers.
Program Goals
The two-semester program is designed to help students develop leadership skills in collaborative team building, and to also enable them to understand the contributions that each health and human service professional contributes, in regards to the well-being of individuals, families and communities.
Student Project
Honors Scholars apply their learning in culmination projects of interdisciplinary assessment and evaluation that address the needs of the Central Valley. The hope is to instill and philosophy of service that encompasses inclusion, respect and equity.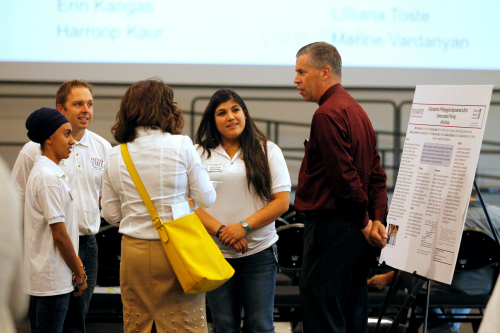 Who is eligible to become an Honors Scholar?
Enrollment in the program is highly competitive and open to students from each academic unit within the college. Each student is a leader in their chosen discipline, as recognized by their professors and peers. Students are invited into the program by faculty in his/her department and must meet the following Honors Program admissions requirements:
Undergraduate major in a CHHS department: Communicative Sciences and Deaf Studies, Kinesiology, Nursing, Public Health, Recreation Administration or Social Work Education
Cumulative GPA of 3.5
Completed at least one semester at Fresno State
Junior or senior standing (completion of 60 units as of fall 2021)
Anticipated graduation in May 2022 or December 2022
Willingness to commit to HHS 114S in Fall (3 units) semester and HHS 115 during Spring (3 units) semester
A maximum 1,000-word typed personal statement of purpose explaining why you wish to participate in the honors program. Include a description of why you chose your area of study. Also include a description of demonstrated community and/or University involvement. In addition, describe your professional goals and how you believe learning skills in collaborative leadership will contribute to success.
A letter of recommendation/nomination from a Fresno State faculty or staff member who can speak to your ability to successfully complete the honors program.
APPLICATION DEADLINE: March 1 by 12 p.m.
Curriculum
Collaborative Leadership in Health and Human Services - 3 units
Introduce fields of study - guest speakers from individual disciplines
Learn methodologies
Identify faculty mentor
Develop collaborative needs assessment plan in consultation with faculty mentor
Applied Collaborative Leadership in Health and Human Services - 3 units
Implement group projects in consultation with mentor
Meet three times during the semester
Present project at symposium
"The best part about the Honors Program is getting a small taste of what a career in the health field will be like. Also, health professionals of Fresno will be more willing to mentor students, creating better-prepared graduates, which will benefit local communities." - Lilliana Toste, 2014-15 Honors Student
"The program has really changed my outlook on teamwork. Everyone brings so many unique things to the table, which just made the whole experience so much better. My classmates have become like family to me and I am honored to have been one of the first students in that program." - Marine Vardanyan, 2014-15 Honors Student
"Through the honors program, I was able to grow as a professional. The program, as a whole, is a great opportunity for students in the college to work with passionate, highly-motivated and caring peers." - Araceli Melchor, 2016-17 Honors Student