College of Health and Human Services
Careers in health and human services
Graduates of our programs are employed in a wide variety of careers, including Nursing, Sports Medicine, Recreation Administration, Deaf Education, Sign Language Interpreting, Speech-Language Pathology, Social Work, Elder Care Advocacy, Health Care Administration and Physical Therapy, to name just a few. The college provides leadership to the community through its educational programs and its faculty activities. Each year, our students provide more than 30,000 hours of service to community and private agencies in the region.
Find out the right career path for you!
AUDIOLOGIST
Audiologists identify, diagnosis, and treat people experiencing disorders associated with the ear and hearing. These disorders may include hearing loss or balance problems. Audiologists utilize technical equipment such as audiometers and computers to assess a patient's ability to hear sounds of varying volume levels and to distinguish sounds of varying difference. Audiologists are also concerned with the nature and extent of hearing loss.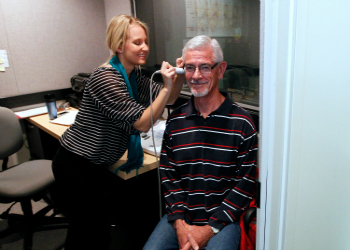 DEAF EDUCATION PROFESSIONAL

Individuals who want to work in deaf education can choose a career as an educator, school counselor, childcare provider, and other areas n human services. In a vast number of jobs, with or without higher degrees, they can serve as "ambassadors" between the mainstream society and the Deaf Community. Some professions in deaf education include:
Teachers who work with deaf students create specialized lesson plans that accommodate the needs of each student. Some teachers work at institutes that train the deaf to adapt to hearing loss, by teaching students sign language, lip reading or how to use adaptive technology. Other teachers may work as special education teachers at traditional schools where they provide deaf students with additional academic support.
School counselors with training in deaf education may help deaf students organize their school and social schedules. Counselors can also act as intermediaries between deaf students and teachers, or between students and parents. Some counselors may also give presentations that focus on school and life skills, including developing better study habits or handling bullies.
Childcare providers watch over children when parents or guardians are away, either working independently or at a licensed organization. Those who specialize in working with deaf children often possess additional training to address each child's needs. For pre-kindergarten deaf children, childcare providers may teach them basic sign language. They may also implement daily schedules to prepare children for school settings.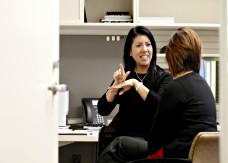 INTERPRETER
Sign Language Interpreting is a career that connects one community to another. In order to accomplish this, interpreters must relay the messages being presented to the highest degree of accuracy possible. This includes relaying tones of voice, feelings and attitudes. The only way that this is possible is to be fluent in both languages and be able to move between languages with ease.
The first step towards becoming a Sign Language Interpreter is to become fluent in a Sign Language, most commonly used in the United States, American Sign Language. Since the profession serves a variety of communication needs, interpreters must be versatile, objective, and reliable.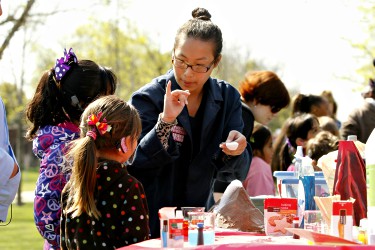 SPEECH-LANGUAGE PATHOLOGIST
Speech-language pathologists assess and treat patients who have speech, language, voice, fluency, or oral motor disorders. They also assist people who wish to improve their communication skills through changes in vocal pitch, quality, or accent. Speech-language pathologists utilize special instruments and tests to develop individualized treatment plans for patients.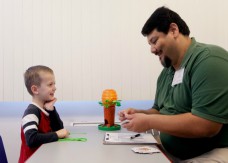 ATHLETIC TRAINER
Athletic Training is an allied health professional that is responsible for the prevention, evaluation, management and rehabilitation of athletic injuries. It also includes the education and counseling of athletes, parents and coaches along with administration and organizations of athletic medicine programs. Athletic trainers collaborate with physicians to optimize activity and participation of patients and clients. The profession is recognized by the American Medical Association. Athletic training encompasses the prevention, diagnosis, and intervention of emergency, acute, and chronic medical conditions involving impairment, functional limitations, and disabilities.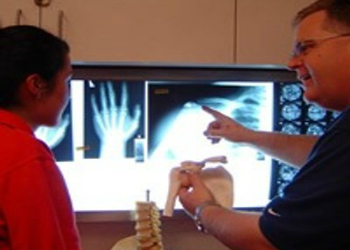 EXERCISE SCIENCE PROFESSIONAL
Those working in the field of exercise science are concerned with the behaviors, mental processes and well-being of individuals, teams and organizations involved in sport and exercise. They typically specialize in either sport or exercise, although some work across both fields. They can work with athletes and teams, in amateur and professional levels, and also with the general public, encouraging a healthy lifestyle and advising on the psychosocial benefits that exercise can offer.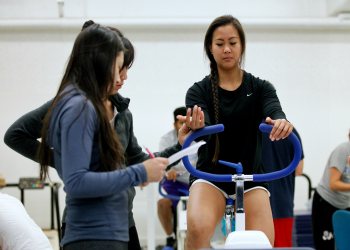 PHYSICAL EDUCATION TEACHER
Physical education (PE) teachers organize games and challenges that promote physical activity among children and young adults from kindergarten to high school. Their goal is to develop motor skills and physical development among younger children and proper exercise and eating habits among older children. PE teachers must adjust their curricula to adapt to children with disabilities or different physical abilities. Some PE teachers also coach sports teams.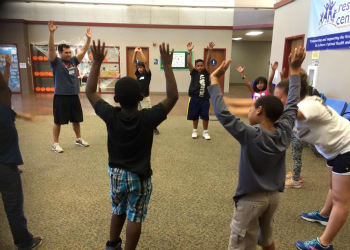 SPORT ADMINISTRATOR
The sport industry is one of the largest industries in the United States. However, there is intense competition for all jobs in sports. Sports administrators help to ensure the smooth running of a sports organization, which may range from reception work at a local sports club to marketing /promotions or human resources at a major sports club. There are also opportunities in sports funding bodies and local authority sports development.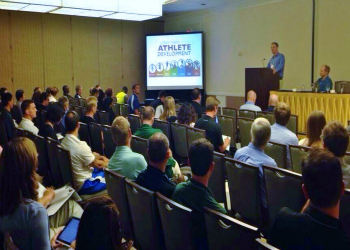 Nursing is an in-demand career that is both highly challenging and rewarding. Registered Nurses (RNs) provide patients with treatment and education, as well as participating in patient care evaluation and discharge planning. Nurses have a wide range of responsibilities, including understanding, administering, and evaluating the effects of a wide range of medicines, operating equipment and being leaders in patient care.
RNs choose from many specialties and areas, including intensive care, pediatrics, gerontology, critical care, surgical care, psychiatry, oncology, orthopedics, administration or education. In addition, nurses can be employed in settings that include hospitals, nursing homes, public health departments, clinics, schools, rehabilitation centers, military settings and much more.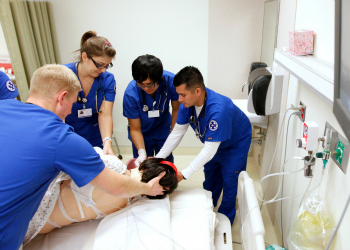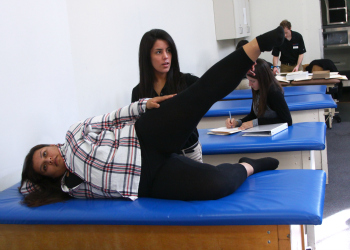 Physical therapists are health care professionals who evaluate and treat people with health problems resulting from injury, disease, or biomechanical dysfunction. Physical therapists are integral members of the primary care team and are involved in prevention of disability and promotion of positive health. They are also acting consultants in restorative care.
Physical Therapy practice today is based on well-developed body of scientific and clinical knowledge. Physical therapists apply knowledge from the basic, behavioral, and social sciences. Physical therapists must also demonstrate effective communication skills. Insight and sensitivity to the unique needs of diverse populations are essential to effectively maximize the individual's functional potential in society.
COMMUNITY HEALTH EDUCATOR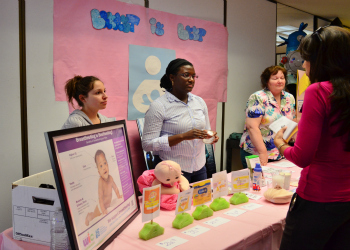 Health educators provide information to the public in an effort to promote, maintain and improve healthy lifestyles. They routinely collect and analyze data for research purposes on public health issues, including substance abuse, HIV/STDs, nutrition, high blood pressure, pregnancy, smoking, and diabetes to name a few. Health educators work with community organizations and community planners to address concerns and issues facing their communities. They also regularly write educational material, reports and grant proposals to advocate on behalf of a community need.
ENVIRONMENTAL AND OCCUPATIONAL HEALTH AND SAFETY SPECIALIST

Specialists in this field analyze many types of work environments to control, eliminate, and prevent disease or injury caused by chemical, physical, radiological, and biological agents or ergonomic factors that involve the impact of equipment design on a worker's comfort or fatigue. They may conduct inspections and inform the management of a business which areas may not be in compliance with State and Federal laws or employer policies, in order to gain their support for addressing these areas. They advise management on the cost and effectiveness of safety and health programs. They are responsible for protecting the public's health from varied and sometimes growing environmental hazards.
HEALTH CARE ADMINISTRATOR

Health care administrators are responsible for planning, coordinating, and supervising the functions of health care facilities. They have varied roles that include either the management of a facility or working in operations within specific departments of a facility. Health care administrators maintain, develop and expand programs, standards and procedures in the health and human service sector.
ADVENTURE RECREATION COORDINATOR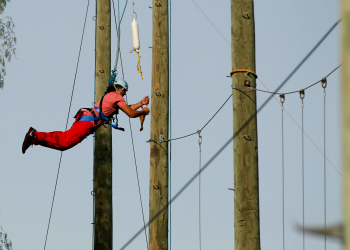 Those in this field work in recreation activities that take place outdoors or in natural resources and park. They provide fun, leisure and high-adventure activities, while promoting teamwork and collaboration. They are sometimes responsible for planning, implementing and coordinating various adventure programs within an organization.They work in settings that include, but are not limited to, ropes course operations, outdoor outfitters, college/university outdoor programs, river rafting companies, adventure tour companies and organized camping.
COMMERCIAL RECREATION AND EVENT PLANNER

A strong eye for detail is necessary for community recreation and event planners. Those in this booming business provide general direction, coordinate and manage community programs and events, as well as promote tourism and travel.
In this field, individuals work in a wide variety of outdoor and indoor settings, from huge events like the Olympics to small corporate incentive travel programs; ecotourism tour companies in national parks, professional sports teams, conventional and visitors bureaus to theme parks.
Other settings can include resorts, sports clubs, cruise lines, special event companies, country clubs, family entertainment centers, and wineries.
COMMUNITY RECREATION AND YOUTH SERVICES COORDINATOR
Those in this field provide professional services designed to meet the recreation and social development needs of communities, families, and individuals. Exposure to the leisure needs of all ages, with special focus on the needs of youth and the role of recreation in creating change are focal area.
Employment may be found in settings such as: community recreation agencies, non-profit agencies, youth agencies, organizing camping, youth ranches, and K-12 and higher educational settings.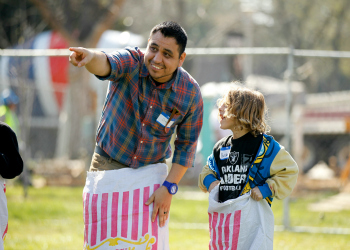 SPORT AND ENTERTAINMENT FACILITY MANAGER

Individuals in this field can expect an exciting career in the management of multi-million dollar public assembly facilities for various types of sport and entertainment, including arenas, stadiums, fairs and festivals, convention centers, performing arts centers, auditoriums, and amphitheaters.
RECREATIONAL THERAPIST

Often referred as therapeutic recreation specialists, those in this field provide treatment services and recreation activities for individuals with disabilities or illnesses. They help these individuals integrate by teaching them how to use community resources and recreational activities. A variety of techniques, including arts and crafts, sports, games, dance, and music, are used to improve and maintain the physical, mental and emotional well-being of clients.
Recreation therapists work in clinical and community-based settings with individuals who have disabling conditions, such as hospitals, nursing homes, rehabilitation centers, psychiatric facilities, correctional facilities, community recreation departments, and group homes, just to name a few.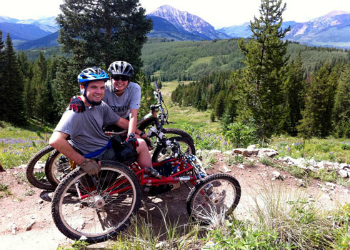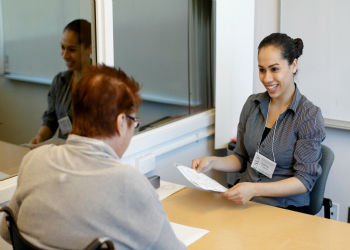 Social workers are hands-on professionals who have a strong desire to improve peoples' lives and advocate on behalf of others. They assist individuals and families with problems such as illness, poverty, drug addiction, child and spousal abuse, homelessness and mental health to name a few. Social workers routinely work with their clients to assess the physical, social and psychological needs of a patient. They also regularly work with civic, religious, and business groups to combat social problems through community programs. Most importantly, social workers provide the link to health and human services agencies and the resources that allow individuals to return as a normal and productive member of society.
Social work is a vast field in which many career options and settings are available, including working in hospitals, schools, social service agencies, nursing homes, prisons, mental health centers, substance abuse centers, court systems and more. Read more about these areas:
Child Welfare: This is also more commonly known as child protective services. Individuals in this field work primarily to help children and their families. They may work in a social services agency to help connect families to resources, like food and shelter. They may connect children, who are victims of abuse or neglect, with foster family agencies. They may also work in a school setting as a counselor.
Community Organizer/Non-profit: Individuals in this area focus their efforts on building partnerships with community, government and business leaders to address the health and social needs of a particular area or population.
Gerontology: These health care professionals specialize in working with the aging and elderly population, in settings that can include nursing homes, senior citizen center, hospitals, etc.
Now that you've seen the career options, take your career assessment today!
Choose from the following: