Department of Kinesiology
Application for the Fall 2024 cohort is now available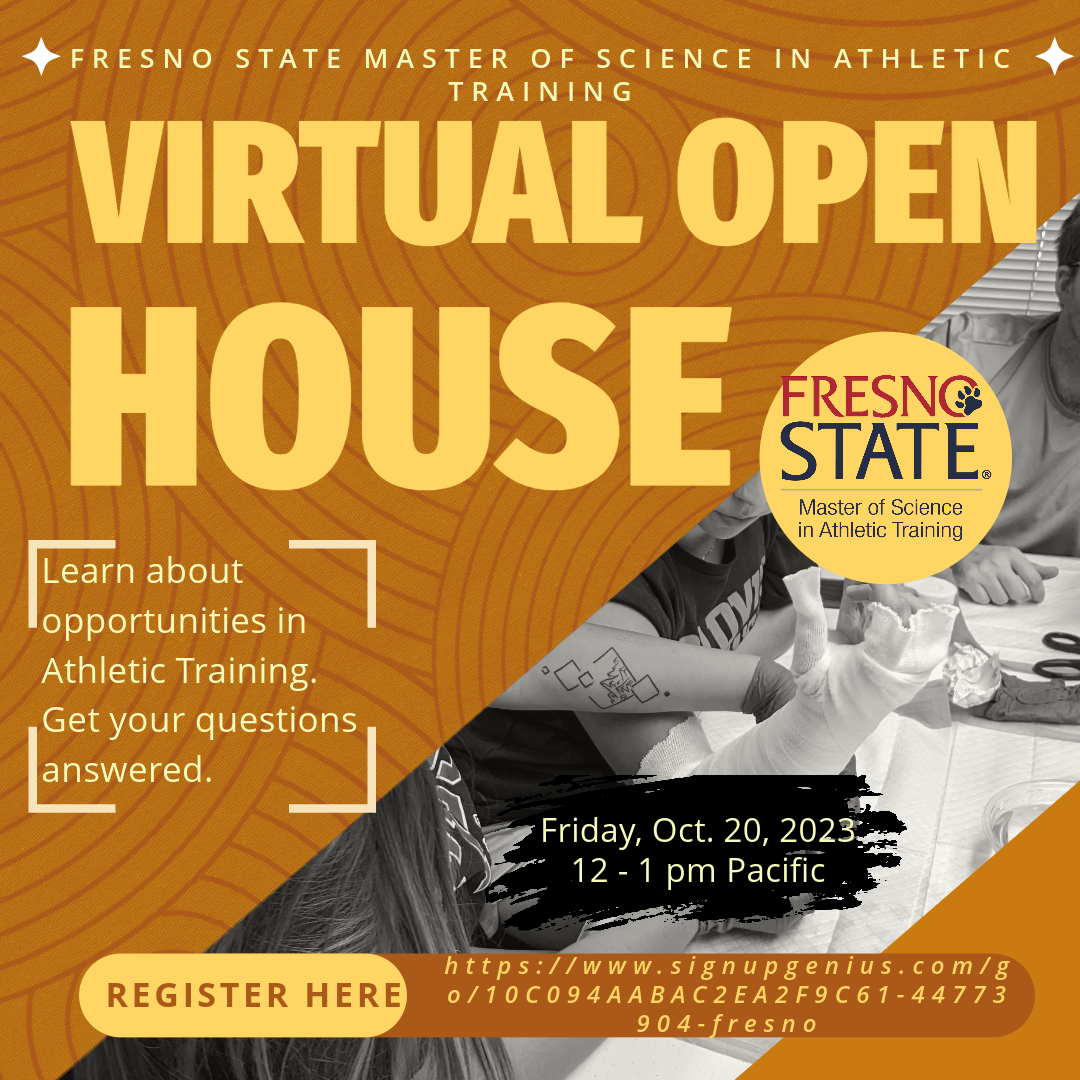 COVID-19 Exceptions
Grades of CR for prerequisites taken as Credit/No Credit will be accepted for courses taken in Spring 2020, Fall 2020, and Spring 2021.
We recognize that the circumstances created by COVID-19 may make it difficult for students to complete observation hours with a Certified Athletic Trainer. If the minimum 100 hours have not been achieved, please submit the number that have been completed. Applications that do not meet the minimum required hours will be given consideration for the Fall 2022 cohort.
We encourage students with an extenuating circumstance due to COVID-19 to apply for the Fall 2023 cohort as consideration will be given to how COVID-19 has impacted the ability to meet admissions criteria.
Admissions
The Fresno State Graduate Athletic Training Program (ATP) is a professional-level athletic training program intended for students that have completed a prior Bachelor's Degree but are not yet eligible to take the Board of Certification Examination.
Applicants may find it helpful to complete a degree in a related field (e.g., General Kinesiology, Exercise Science); however, it is not required as long as the prerequisites (listed below) are met.
Admission to the program requires:
Admission to the program requires the student to:
Apply for University graduate student status;
Submit an application through ATCAS;
Have an undergraduate GPA of at least 3.0;
Participate in an interview;
Document 100 hours of observation with a Certified Athletic Trainer; and
Earn a C or better and 3.0 GPA in the following prerequisite courses:
Course List
Prerequisite Courses
Fresno State Students
Non-Fresno State Students

Biology w/ lab

BIOL 10 or BIOL 1A

General Biology with lab

Chemistry w/ lab

CHEM 3A

General Chemistry with lab

P

hysic

s

PHYS 2A

General Physics course including mechanics, heat, light, sound, and electricity. Lab preferred but not required.

2 semesters of Anatomy & Physiology w/ Lab

BIOL 67A & 67B

Human Anatomy with lab

Human Physiology with lab

Combined Anatomy & Physiology 2 semester sequence acceptable

General Psychology or Sport

Psychology

PSYCH 10 or

KINES 33

General psychology, developmental psychology, lifespan psychology or sports psychology accepted

Fundamentals of Biomechanics

KINES 116

Structural and mechanical properties of the musculoskeletal system, associated movement functions of the human body and applied physics

Exercise Physiology

KINES 118

Study and application of physiological bases of movement, work, response, and adaption to exercise. Environmental conditions, gender, and age considered.

Nutrition

NUTR 53 or 147

General nutrition or sport/athlete nutrition course

(Note: Kines 163: Fitness & Wellness will be accepted for the Fall 2022 cohort application cycle, though Nutrition 53 or 147 are strongly encouraged. Fitness and Wellness will no longer meet this requirement as of the Fall 2023 cohort application cycle.)

Statistics

PH 92 or MATH 11

Any introduction to basic statistics course

Care and Prevention of Athletic Injuries

KINES 38

Care of musculoskeletal injuries or equivalent

First Aid & CPR or current emergency cardiac care (ECC) card*

*Certification doesn't need to be current but applicants must have completed the course at least once prior to applying. Recertification occurs within the program.

KINES 48 (preferred), PH 48, or PH 49

Must include all of the following: Adult & Pediatric CPR, AED, 2nd Rescuer CPR, Airway Obstruction, Barrier Devices (e.g., pocket mask, bag valve mask).

EMT Course is also acceptable.
Prerequisites are evaluated based on the criteria listed above. If you have questions about whether a course meets the criteria, please email us the syllabus for the course in question at msat@mail.fresnostate.edu. Applications are accepted while prerequisites are in progress. Considerations for admissions are partially based on grades received in prerequisite courses, and therefore it is recommended that the majority of these courses be completed at the time of application. Updates are also recommended as grades are received in courses previously in progress.
All prerequisites must be completed by July 1 prior to starting the MSAT.
Fall 2023 MSAT Application Instructions
**Admission requirements are updated annually in June for the upcoming admission cycle starting in September.
STEP 1: Complete the MSAT Application in ATCAS
Deadlines:
Sept. 1 - Application period opens.
Nov. 1 - Priority Application Deadline. Only 2 prerequisites may be remaining in progress.
Feb. 1 - Preferred Application Deadline.
April 1 - Final Application Deadline.
Interviews will be held 3-4 weeks following each application deadline.
There is a $93 fee in ATCAS ($55 if you have applied to another program in the system). Official transcripts will be required to be submitted to ATCAS.
The CAATE provides a fee waiver program for those who qualify. More information can be found here.
**STEP 2: Cal State Apply Graduate Online Application
Only required when instructed to do so following an interview.
Deadlines:
Program Preferred Deadline - May 15
Final Deadline - June 1
https://www2.calstate.edu/apply
You do not need to submit official transcripts (unless a final transcript is required after a course or degree is completed) as they will be obtained via ATCAS.
There is a $70 application fee in Cal State Apply.