Department of Kinesiology
Ideal Location
Fresno State's Kinesiology Graduate Program is the ideal place to study. Located in the heart of California, our students have access to a vast number of sport teams, organizations, facilities, venues, and internship opportunities.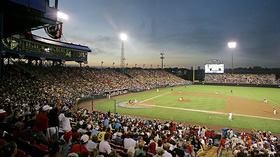 Sport Venues
Because of our central location, our students are in close proximity to hundreds of professional, university, college, high school, and other amateur sport teams and organizations. In fact, Fresno is only a short commute to many leading sport venues and entertainment events in the world. The Super Bowl, World Series, Rose Bowl, The Masters Golf Tournament, NCAA Tournament, and the Olympics are just some of the games and events that have taken place in California.
Setting
Fresno County is home to some of the world's most sought after recreation and entertainment destinations. Each year, millions of people from across the world come to the Fresno area to backpack, rock climb, or hike the Sierra Nevada Mountains. Breathtaking scenery, spectacular canyons, cascading rivers and waterfalls, and endless trails can be found a short drive away in Yosemite, Sequoia, & Kings Canyon National Parks. Students can enjoy year-round activities like skateboarding, BMX trails, whitewater rafting, mountain biking, canoeing, jet skiing, sailing, and golf.
While the weather is constantly warm in Fresno, in winter, there's snowboarding, snowmobiling, ice-skating, and snowshoeing just to name a few of the sport activities to choose from.
Campus Life
Located on the Fresno State campus is the Save Mart Center, considered one of the premier event centers on the West Coast. Notable artists who have performed at the Save Mart Center include: Madonna, Beyoncé, Taylor Swift, Carrie Underwood, Pink, Aerosmith, and The Rolling Stones, just to name a few. If you like concerts, you'll have plenty of opportunities to see the hottest artists live.
Who said school can't be fun? Whatever your sport, recreation, or entertainment taste, Fresno State and its nearby venues have it all.
If you're ready for the fun and excitement and want to further your career, APPLY HERE!