College of Health and Human Services
Dean's Medalists
The Dean's Medal honors the top graduating student earning an undergraduate or a graduate degree from one of the departments within the College of Health and Human Services.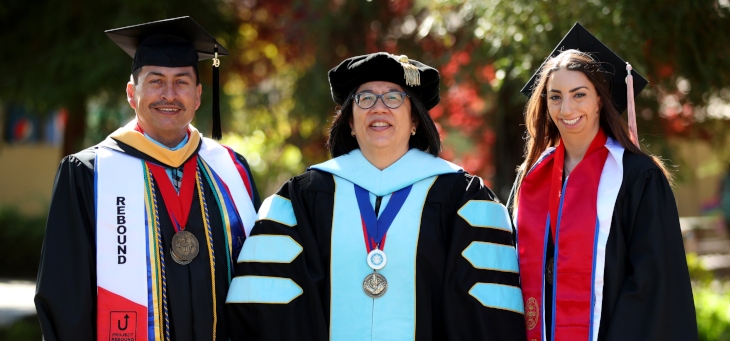 Congratulations to our 2019 Dean's Medalist recipients!
Graduate Division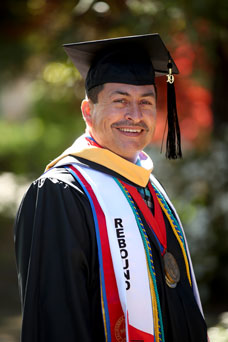 Arnoldo Trevino, Department of Social Work Education

Arnold Treviño, of Porterville, completed his M.S.W. in social work with a 4.0 GPA just two years after earning his B.A. in social work at Fresno State. At the age of 21, Treviño was sentenced to life in prison for a crime he committed while under the influence. But a desire to turn his life around helped fuel his academic journey when he was released. Treviño was awarded the President's Graduate Scholarship and was selected for the College of Health and Human Services Honors Program in Collaborative Leadership. He is a member of Phi Kappa Phi National Honor Society, Chi Nu Social Work Honor Society and Trabajadores de la Raza social work student club. Treviño interned with Project Rebound at Fresno State supporting formerly incarcerated students. He also interned with Focus Forward where he mentored youth at the Juvenile Justice Campus in Fresno and helped reunite families. Treviño continues to help others in the prison system through a therapeutic horticulture program he co-facilitates at the Avenal State Prison, where he spent seven years. He will pursue a career working with those who have been impacted by the criminal justice system.
Undergraduate Division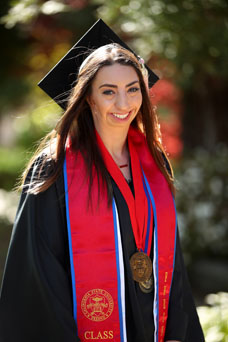 Shannon Muzio, Department of Communicative Sciences and Deaf Studies
Shannon Muzio, of Fresno, is a first-generation college student who completed her B.A. in communicative sciences and deaf studies with an option in audiology and a minor in agricultural business with a 4.0 GPA. Born with moderate to severe congenital hearing loss, Muzio is using her personal experience to help increase communication for those who are deaf and hard of hearing. She earned clinical experience in Fresno State's Speech, Language and Hearing Clinic, volunteered more than 50 hours at the Deaf and Hard of Hearing Service Center of Fresno and put in more than 400 hours of community service for the First Presbyterian Church of Fresno. Muzio earned her certificate in Conversational American Sign Language and a certificate in Cross Cultural Competency. Her goal is to promote diverse language opportunities for families of all ethnic and socioeconomic backgrounds. She will attend the University of North Carolina at Chapel Hill to pursue a doctorate of audiology and hopes to earn her Ph.D. afterward.