Central California Training Academy
Regional Manager Summit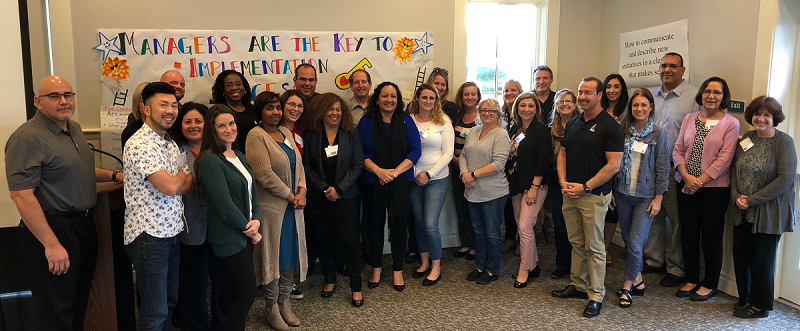 CCTA's CPM Implementation Support Team hosted our first Regional Manager Summit on November 8 in Avila Beach!
Managers and Leaders are the Key to Implementation Success!
The day was filled with peer networking, skill building, and learning about best practice with implementation, all with a special emphasis on the role that leaders play. We appreciated the California Practice Model's ability to integrate all major practices and system improvement efforts within its framework. We applied what we know about the 4 domains of successful implementation (building organizational readiness for change, workforce development, quality outcome and system improvement, and engaging and building relationships with partners) to our key assignments back home.
Our managers practiced creating and delivering their own "message" or story to convey the CPM back home, and had a great time applying the key principles behind implementation science to their lead assignments, such as SOP, CCR, CANS, and CFT. The opportunity to network and collaborate together, throughout the day, was one of the most valuable aspects of the day.
Opening and closing circles were used to celebrate our coming together to support each other as we share in the work of outcome improvement for families and children through continued quality improvement at both the practice and system levels. While not everyone who attended the Central Regional Manager Summit had the title, "Manager," all who attended are leaders in their organization and committed to improving family and child outcomes through implementation of the CPM.
We hope to re-convene the Manager Summit during the spring of 2019! We know that leaders play a critical role in ensuring successful implementation of any practice or system improvement. CCTA's IST's role is to support our 12 Central Counties as they build capacity for successful CPM implementation! We would like to thank and acknowledge the IST members who supported this event. From CCTA, they are: David Foster, Barbara Foster, Darlene Hill, Kate Acosta, Joanne Pritchard, Judy Rutan, and Andrea Sobrado. Consulting partners include: Lucia Weiss, David Plassman, Leah Lujan, and Renée Boothroyd.