Department of Kinesiology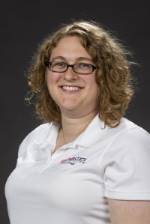 Stephanie D. Moore, PhD, ATC
Educational Background:
PhD Rehabilitation Science, University of Kentucky
Graduate Certificate in Applied Statistics, University of Kentucky
MS Athletic Training, Illinois State University
BS Athletic Training, University of Central Missouri
Recent Publications:
Ruser JB, Yukhymenko-Lescroart M, Gilbert JN, Gilbert W, Moore SD. Gratitude, Coach-Athlete Relationships, and Burnout in Collegiate Student-Athletes. Journal of Clinical Sport Psychology, 2020; in press.
Khal KM, Moore SD, Pryor JL, Singh B. Changes in Infraspinatus and Lower Trapezius Activation following Repeated Volleyball Serves. International Journal of Sports Physical Therapy, 2020; 15(2):196-202.
Pryor JL, Christensen B, Jackson CGR, Moore SD. Metabolic Demands of Surya Namaskar Performed at Varying Tempos Compared to Walking. Journal of Physical Activity and Health, 2019; 16(7):575-580.
Moore-Reed SD, Seekins KA, Sciascia AD, Uhl TL, Kibler WB. Conservative Treatment for Patients with Suspected SLAP Tears: A Case Series. Turkish Clinics Journal of Health Sciences, 2017; 2(2):121-8.
Gilbert JN, Moore-Reed SD, Clifton AM. Teaching Sport Psychology for Now and the Future? The Psychological UNIFORM with High School Varsity Athletes. The Sport Psychologist, 2017; 31(1):88-100.
Moore-Reed SD, Kibler WB, Bush H, Uhl TL. Level of Patient-Physician Agreement in Assessment of Change Following Conservative Rehabilitation for Shoulder Pain. Shoulder and Elbow, 2017; 9(2):127-132.
Moore-Reed SD, Kibler WB, Myers N, Smith B. The Effect of Tennis Play on Glenohumeral Rotation in Female Athletes. International Journal of Sport Physical Therapy, 2016; 11(2):230-236.
Selected Recent Conference Presentations:
Leon R, Moore S, Nisbett N, Gilbert M, Sailor S, Leiva M. Designing Purposeful, Longitudinal Interprofessional Education for Pharmacy and Allied Health Students to Collaborate on Community Health Issues. American Society of Health-System Pharmacists National Pharmacy Preceptors Conference. October 2020, Virtual Meeting.
Moore SD, Sailor SR. Quality Patient Care Requires Quality Clinician Wellbeing. California Athletic Trainers' Association Annual Meeting & Clinical Symposium, February 2020, Sacramento, CA.
Moore SD, Huxel Bliven K. Risk Factors for Throwing Arm Injury in Adolescent Baseball Players: A Critically Appraised Topic. American Society of Shoulder and Elbow Therapists Annual Meeting, October 2019, New York, NY.
Moore SD. A Framework for Whole Person, Patient-Centered Care: Disablement Models. Representing the NATA Disablement Model Work Group. Far West Athletic Trainers' Association Annual Meeting, April 2018, Las Vegas, NV.
Shea KM, Moore-Reed SD, Pryor JL, Brass K, Singh B. Fatigue Induced Compensation of the Infraspinatus and Lower Trapezius in Division I College Volleyball Players. American Physical Therapy Association Combined Sections Meeting, February 2017, San Antonio, TX.
Moore SD. Instrument Assisted Soft Tissue Mobilization (IASTM): What is the Evidence? National Athletic Trainers' Association Annual Meeting & Clinical Symposia, June 2016, Baltimore, MD.
Courses Taught:
AT 212: Integrated Principles of Athletic Training I
AT 216: Research Methods in Athletic Training I
AT 222: Integrated Principles of Athletic Training II
AT 226: Research Methods in Athletic Training II
AT 252-254: Clinical Practicum
KINES 230: Statistical Inference in Kinesiology
KINES 231: Research Methods in Kinesiology
HHS 114S: Foundations of Interprofessional Collaboration
Research Interests:
Prevention and treatment of shoulder injuries
Orthopedic outcomes
Manual therapy techniques
Current Projects:
Shoulder profile of adolescent volleyball players
Effectiveness of a preventative training program in adolescent volleyball players
Quotes I live by:
"Let no feeling of discouragement prey upon you, and in the end you are bound to succeed." Abraham Lincoln
"Nothing is so fatiguing as the eternal hanging on of an uncompleted task." William James
Contact Information:
Phone: 559-278-0255
Email: stmoore@mail.fresnostate.edu
Office: North Gym 121C