Central Valley Health Policy Institute
BHC Profile: Fresno Metro Ministry
Socorro Gaeta, Building Healthy Communities Organizer


"I love working with my community," Socorro said. "I love working with people."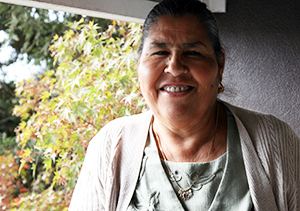 Socorro Gaeta, an outreach coordinator for Fresno Metro Ministry (FMM), started working with her community at a young age. Born in Mexico, Socorro explains one of her earliest experiences with community work: "I went door to door to collect food, beans, corn and eggs, to sell so we could make Christmas piñatas for the neighborhood children." Her efforts in the community did not go unnoticed. Soon after, Socorro was asked to volunteer for both her local church and school.
Now, Socorro holds resident meetings in Fresno, California, that are attended by dozens of adults and youths alike. "I go to the people," she said, of her meetings at Holmes Park in central Fresno. "People stop me in the street and ask me questions. If I don't know the answer, they know I will find it for them."
The questions Socorro receives often require complex answers. Working with the Fresno 2035 General Plan Update, Socorro is focused on helping her residents to improve community health.
Communities Make Health Happen
In 2012, Socorro's residents were in danger of losing the gymnasium at the Holmes Neighborhood Center. For many, this is the only nearby gym in the community and a staple of community health. Socorro held meetings with more than 70 residents, both youths and adults, and also met with city leaders, to find a way to keep the gym open.
"My work is about what people need," Socorro explained. "Whatever they need, we do that at Fresno Metro Ministry. People trust us. We help people to find the services they need."
Trust is a vital part of Socorro's relationship with community residents. "I am just like the residents I work with," she said. "I have lived in the community for more than twenty years already. They know me from my work and they know they can trust me."
While finding ways to meet community needs, much of what Socorro's work is about is cultivating leadership. Along with Fresno Metro Ministry, Socorro helps to make complex processes simple by teaching residents how to go directly to city leaders to have their concerns addressed.
"I am always volunteering," she said. "When I have free time, I volunteer."
At 20, Socorro moved to the United States from Mexico and was soon volunteering at her local church. She helped out with the church's marriage classes, and also volunteered in the office, processing donations. As her children began school at Jefferson Elementary, she became a classroom helper and also volunteered in the school office.
Socorro's leadership abilities were impossible to ignore. School staff suggested that she attend One by One Leadership meetings, a program she credits with giving her the opportunity to learn new community organizing strategies. Socorro received the position of Fellow, and it was during this time that she joined the Jefferson Area Neighborhood Association (JANA). She was also introduced to Fresno Metro Ministry through One by One Leadership, and was offered the opportunity to work with the organization as a community organizer.
"Fresno Metro Ministry saw what I was doing [in the community]," she said. "I saw what they were doing, too. We are helping people. "
Like many of the community organizers working with the Building Healthy Communities initiative, Socorro has life-long experience organizing and is an established community leader who can bring more than 300 residents together to address community issues.
"People don't know their power," Socorro said. "They don't know they have power. I was like that, too. I know how it is. People see me now and talk to me. They learn they can do the same as me. They learn how much power they have."