Central Valley Health Policy Institute
BHC Profile: West Fresno Family Resource Center
Anne Gaston, Building Healthy Communities Organizer
"I've been politically active since the age of twelve."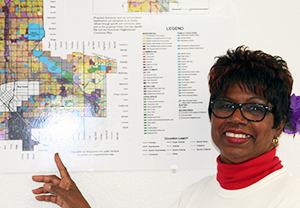 Anne Gaston, a Community Advocate with the West Fresno Family Resource Center (WFFRC), first became involved with community-related during childhood. When she was twelve years old, a local educator tapped her on the shoulder to help with a State Senator's reelection campaign. "From there," Anne said, "my work in the community escalated."
Anne went on to help with another political campaign, which taught her even more about the issues facing her community. A lifelong resident of southwest Fresno, Anne's parents also made a point to keep her involved with the politics of her community. "I grew up during the civil rights era," she said. "My parents always taught me to be proud of who I am, to get the best education I could, and to always treat every person I meet as I would treat myself. I see everyone as an individual, and when there is a need—you step in and do your duty."
During college, Anne learned to go straight to the source when finding solutions to community problems. While participating in a food drive, she contacted a local farmer who agreed to donate a generous supply of oranges. "I've always had a desire to help people," she explained. "I'm not alone in that desire."
Anne also worked with her community church. "Quite naturally," she says of her experiences with the church, "you find out what needs there are in the community, and you learn what you can do to help out." Anne's first experience with community organizing came when she put together a boutique through the church to sell items made by community members. She learned how to go through the process of building support and navigating the right channels to make the event a success.
Today, Anne organizes multi-sector events as a community organizer with Building Health Communities (BHC). As a member of FLARE Together, Anne has received more community organizing training and learned new tools for systems change. Because she is so active in her community, Anne is the first person her residents call when an issue arises.
System Change
Anne and her residents are proactive, organizing around city policies that directly affect the health of their community. As a former city hall field representative, Anne possesses an edge when dealing with system and policy change. "People don't always know the right questions to ask or they may call the wrong department when trying to get something done," she said. "I was taught to do exactly that and in my everyday life, I share that knowledge with people."
After her time at City Hall, Yolanda Randles, the Executive Director of West Fresno Family Resource Center, appointed Anne to work with the BHC initiative. Anne was already familiar with both community organizing and land use policies, and was eager to put her advocacy skills to work.
"You have to build trust and you have to educate."
Anne says that one of the most important things she does in her work is building trust with residents, something she explains to be a continual process. At times, she meets with residents who are skeptical about whether or not change in their community is possible. Even if a resident is resistant at first, she says, once they see the work that BHC is doing, many agree to put their efforts into making healthy system and policy changes. Anne refers to this process as planting seeds.
"I keep building trust as I go," Anne said. "The main things that I do are about trust and education."
Anne now echoes her parents' advice, to get and give the best education possible. WFFRC, Anne says, is a place that actively educates the southwest Fresno community. "Even if you get just a few people who are passionate," she said, "the information will spread throughout the entire community."