Central Valley Health Policy Institute
Health Policy Leadership Program
Community-based organizations are key participants in building a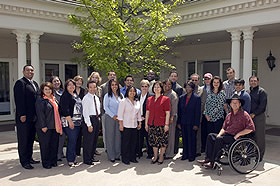 healthier Central Valley and improving their effectiveness is a prime strategy for a fair health movement. With support from the Community Leadership Program we are also offering full sponsorships to five small non-profit community-based organizations. These organizations may nominate two mid-career emerging leaders to participate in this program. Further, the selected CBOs will receive an additional stipend to support participation in training and costs associated with participant projects. As in prior years, some individual scholarships based on need are also available.
The Central Valley Health Policy Institute (CVHPI) is committed to facilitating the development of health and healthcare policies and programs in the San Joaquin Valley. Current policy research and technical assistance priorities for the CVHPI include: uninsured and inadequately insured adults, health professional shortages, and environmental influences on health. The Health Policy Leadership Program seeks to increase regional capacity to create and implement effective health and health care initiatives.
Questions about the program may be submitted to Diahann Gutierrez at diahannh@csufresno.edu or call (559) 228-2150.
Health Policy Leadership Program Brochure 2019-2020 (pdf)
Health Policy Leadership Program Application 2019-2020 (pdf)