Department of Kinesiology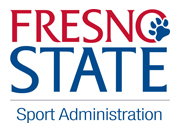 Program Facts
---
Aren't all Sport Admin programs the same?

No. Fresno State's graduate program is a premier program on the West coast (read what former students say about our program). While we teach our students a lot about sport, our real focus is to build leaders and prepare students for their dream job in the sport industry.
In our program you don't just sit in class and take notes. Here, you'll undergo a career analysis; evaluate your marketability within the sport industry; learn how to create your very own brand to differentiate yourself from the competition; network with leading sport personnel and organizations, develop a guerrilla marketing resume -- all while you gain essential hands-on sport industry experience.
So if you're looking for a Sport Administration program that will help you reach your career goals, you've found it. Compare us to any other program and you'll see why students love our program:
---
Will your program help me get a job in sport?
No one can guarantee you a job in the sport industry. You'll have to earn it. That's why our #1 goal is to prepare you for a career in the sport industry. This preparation includes teaching you little known secrets of sport industry job-hunting, how to make valuable networking contacts, and use technology to get a leg up on the competition. Students in our program also learn how to research companies and careers and then carefully target those companies and jobs that match your strengths, skills, and interests. In sum, you'll learn what works in sport job hunting, instead of falling prey to the common and ineffective practice of sending out 100s of "blind" resumes.
---
Do you offer sport internships?
Yes. Sport industry experience is critical. That's why we encourage our students to complete 2 sport internships and gain as much volunteer experience as possible.
Our students have interned at numerous youth, high school, college, and professional sport organizations in the following areas (just to name a few):
Communications & Media Relations
Community & Public Relations
Compliance
Development & Fundraising
Game & Event Management
Stadium Operations
Football Operations
Marketing & Promotions
Player Personnel
Social Media
Sponsorship & Sport Properties
Sport Medicine
Strength & Conditioning
Student-Athlete Services & Academic Advising
Ticket Operations & Sales
Video Productions
---
How long does your program take?
Our program consists of 30 credit units. Unlike 1 year programs designed to rush you through as quickly as possible, in our program you receive 24 months of intensive career development training. During this time you'll discover what you're good at, learn what it takes to pursue your dream job, and undergo a career analysis to evaluate your current marketability within the sport industry. After that, you'll learn how to create your own brand and differentiate yourself from the competition and set yourself apart from others in the sport industry. We'll then show you how to develop a strategic career plan that matches your strengths and interests, teach you how to design a "guerrilla marketing" sport industry resume that stands out from the rest, and share secrets on how to find sport industry job, connect and network with leading sport industry professionals and organizations. You'll do all of this and more -- while you gain valuable, marketable sport industry experience.
---
What are the program requirements?
We take into consideration each applicant's entire background. For example, some of the things we consider are: undergraduate major & degree*, GPA, GRE or MAT scores, letters of recommendation, and sport industry experience.
*Students who do not have sport industry experience or a sport administration or business degree may be required to take 2 additional courses. However, students can take these courses concurrently with their Sport Administration classes.
---
How much does your program cost?
Our program is an exceptional value. Not only is the quality of our program second to none, we're one of the most affordable sport administration programs in the United States. Don't add $20,000 - $30,000 more to your student loan debt when you can attend the premier Sport Administration program for a fraction of the cost.
See our links on tuition cost, financial aid, awards, and assistantships for more information.
---
How do I apply?
It's fast and easy! Read about our online application process here and when you're ready to apply, visit Cal State Apply and follow the instructions.
---