News and Media
Learn more about The Silent Garden!
Press Release: Gallaudet University Recognizes Fresno State Professor Emeritus Dr. Paul Ogden for his pioneering work on behalf of Deaf community with an Honorary Doctorate
The free, public workshop addressed problems and concerns along with strategies in reducing communication hassles. READ MORE.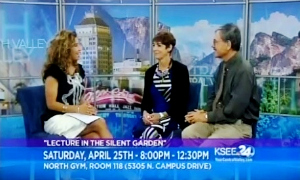 April 23, 20145 - Interview with Central Valley Today, featuring Dr. Ogden and Lynn Toschi, a Silent Garden endowed chair. The workshop, designed for individuals who have or suspect they have hearing loss and their communication partners, is also open to professionals who are interested on better developing their skills.
University program receives $1 million gift to aid Deaf and hard of hearing community - January 30, 2015
A $1 million dollar gift from a donor who wishes to remain anonymous will address the growing need to train Valley educators to work with deaf and hard of hearing students who also have other special needs.
The gift will go toward the endowment of Scarlett's Park, a program within Fresno State's Silent Garden. The Silent Garden program was founded in 2008 by Dr. Paul W. Ogden, deaf studies professor emeritus, to foster opportunity, understanding and awareness for the deaf and hard of hearing community. READ MORE.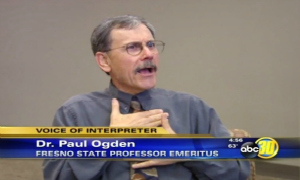 ABC30 Action News feature story. Jan. 29, 2015
Joseph Slotnick dedicates $1.5M to Deaf Studies program - January 25, 2013
At the age of three Joseph S. Slotnick was driven into a world of silence after meningitis robbed him of the ability to hear. With the support of his parents Slotnick went on to achieve great success as a computer engineer, and now is honoring their memory with a $1.5 million bequest to Fresno State's Department of Communicative Disorders and Deaf Studies in the College of Health and Human Services.
The gift establishes the Joseph S. Slotnick Distinguished Professorship in the Silent Garden, an endowed faculty position that will bring experts in deaf studies to teach at Fresno State and work with the community. READ MORE.
Architect Robert Nicol pledges $2 million to advance Deaf Studies - January 27, 2012
Robert Duncan Nicol has never heard the sound of his own voice. He did not speak until he was 10 years old. But since Nicol found his voice, he has dedicated his life to proving that deafness, while limiting, would never deter him from achieving his dreams.
Now a retired architect and vineyard-owner, Nicol has committed to helping individuals who are deaf or hard of hearing by pledging $2 million to Fresno State's Department of Communicative Disorders & Deaf Studies in the College of Health and Human Services. His gift establishes the Robert Duncan Nicol Endowed Chair in the Silent Garden and is the largest single gift to the College of Health and Human Services. READ MORE.