Founders
About Paul Ogden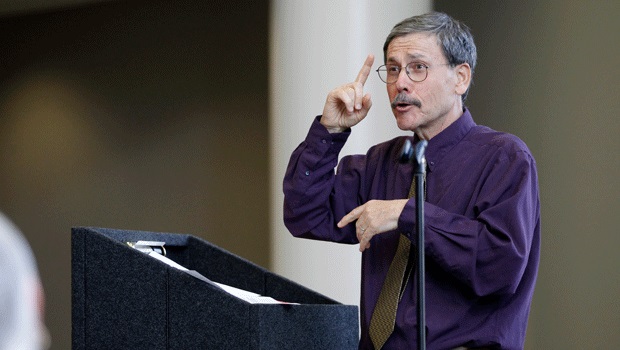 Background
Dr. Paul W. Ogden, a pioneering leader in deaf education, author and Emeritus Professor, was born deaf to hearing parents and overcame obstacles and prejudice to earn a Ph.D. and have an impactful 40-year career teaching at Fresno State. His first book in 1996, "The Silent Garden: Understanding Your Hearing-Impaired Child," was a groundbreaking tool to aid hearing parents raising a deaf child. His own mother commented that she wished she had such a tool when raising him.
Dr. Ogden's desire throughout his career has been to help parents raising deaf or hard of hearing children, and the teachers, interpreters, and other education professionals who work with them. He believes it is important that the "team" that surrounds a deaf child has all the latest information and best practices because they all play important roles in raising and working with the child.
He also sees a crucial need to provide families and working professionals with the latest research and best practices in deaf education, in language that is understandable to the layperson. And Deaf Education and Interpreting graduates need a trusted source to turn to as they progress in their careers and seek to keep abreast of the advances in their field.
Dr. Ogden's desire to help became a vision to provide community workshops for Deaf and hard of hearing children's team members through an endowed faculty position in the Department of Communicative Sciences and Deaf Studies at Fresno State. The Silent Garden, begun in 2008 at Fresno State, was started to fulfill that vision. With careful nurturing, the Garden has grown in three main ways: First, providing dynamic and relevant programming for the deaf, hard of hearing and their families. Second, gaining national recognition as a role model for institutions throughout the United States because of its delivery method and solid foundation. Third, successful fundraising that to date exceeds $8 million in donations and planned giving.
Honorary Recognition
In recognition of his pioneering work for the Deaf community, Dr. Ogden was awarded an Honorary Doctor of Humane Letters degree from the nation's top university for the education of deaf students, Gallaudet University in Washington, D.C. Gallaudet is the premier institution of learning, teaching and research for deaf and hard of hearing students. Gallaudet is a comprehensive, liberal arts university founded in 1864 when President Abraham Lincoln signed its charter.
In recommending him for an honorary degree from Gallaudet, the university's nominating committee wrote, "Dr. Ogden is an exemplary example of what it means to be a successful deaf leader who inspires people to pursue their passions so they, too, can be a source of encouragement to others. In other words, his circle of influence continues to widen over the years as the ever-expanding ripples encompass other people affected by his teachings and writings." [View Honorary Degree tribute]
Community work
In recent years, Dr. Ogden has been a tireless fundraiser and organizer of programs to make connections and build awareness in the Deaf and Hard of Hearing Community. In 2008, Fresno State established The Silent Garden program to provide educational programs, workshops and resources to deaf and hard of hearing children's families, teachers, interpreters and professionals in the Central California region. Today, the Silent Garden includes an endowed chair, an endowed professorship, an educational fund to provide The Silent Garden Lectures free to the public, the Silent Garden Scholars, and Scarlett's Park, which serves deaf and hard of hearing children and youth with special needs.
Another of Dr. Ogden's project, The SunFlowers in the Silent Garden, raises funds to provide a free copy of "The Silent Garden" book to all parents of newly identified deaf infants in California. He worked with the California Department of Education to create this opportunity. Spanish-speaking families will receive a copy of the Spanish edition of "El Jardín Silencioso," also published by Gallaudet University Press. Along with the paperback copy, parents will have free access to the audiobook edition in their preferred language.
Dr. Ogden earned a bachelor's degree in mathematics and computers from Antioch College and master's and doctoral degrees in educational psychology and deaf education from the University of Illinois, Champaign‐Urbana.
He was named Outstanding Professor of the Year at Fresno State in 1995 and is respected and loved by the thousands of students he has taught and mentored in the Department of Communicative Sciences and Deaf Studies. In 2012, he was awarded the Lifetime Achievement Award at the annual conference of California Educators of the Deaf.