Resource Center
Learn about additional information here
---
The Department of Communicative Sciences and Deaf Studies at Fresno State
This department trains professionals to work in the public sector in the areas of speech-language pathology, audiology, deaf education, deaf studies, and interpreting. Degrees in these specialized disciplines are available at the undergraduate and graduate levels. Visit them on the web at http://fresnostate.edu/chhs/csds.
---
The Silent Garden Lecture slides and material
View more Silent Garden resources
---
Scarlett's Park Conference slides and material
2023 Conference:
Dr. Lori Day
"Building Resilient Families, Schools, and Communities Through Trauma-Informed Practices"
Kasey Pendexter
"Impact of Trauma on Deaf Elementary School-Age Youth and Healing Centered Strategies"
Michelle Cline and Dan Foley
"Strategies to Support Students' Behavioral Challenges"
View 2023 presentations | View all Scarlett's Park resources
---

Deaf and Hard of Hearing Service Center, Inc.
DHHSC is a private, non-profit social service agency that serves individuals who are deaf, hard of hearing, deaf-blind, and late-deafened, their families, friends, and community service providers. DHHSC's headquarter office is located in Fresno (serves Fresno County) and has been in operation since 1984. Learn more by visiting www.dhhsc.org.
---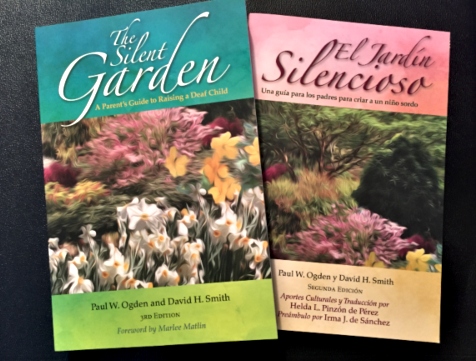 "The Silent Garden: Raising Your Deaf Child" is available in Spanish and English, including in audio format.
Purchase books: