Resource Center
Learn about additional information here
---
The Department of Communicative Sciences and Deaf Studies at Fresno State
This department trains professionals to work in the public sector in the areas of speech-language pathology, audiology, deaf education, deaf studies, and interpreting. Degrees in these specialized disciplines are available at the undergraduate and graduate levels. Visit them on the web at http://fresnostate.edu/chhs/csds.
---
The Silent Garden Lecture slides and material
---
Scarlett's Park Conference slides and material
2021 Conference:
Stephanie W. Cawthon
"Deaf students with learning disabilities: Considering root causes in the design of supportive learning environments"

Peter C. Hauser
"Deaf Neurodiversity"

M. Natasha Kordus
"Unpacking learning disabilities: What really works with Deaf and Hard of Hearing kids"
Jennifer Labriola-Megee
"How to embrace reading and math challenges and make literacy-based learning work in the classrooms with students that have learning disabilities"
Download and view presentations
2022 Conference:
Dr. Kasee Stratton-Gadke
"Understanding CHARGE Syndrome and Recent Research Findings"
Christopher Russell, TVI
"Availability for Learning and the CHARGE Syndrome Experience"
Susanne Morgan Morrow, MA, CI/CT
"Communication Needs & Modifications to Sign Language for Learners with CHARGE"
Download and view presentations
---

Deaf and Hard of Hearing Service Center, Inc.
DHHSC is a private, non-profit social service agency that serves individuals who are deaf, hard of hearing, deaf-blind, and late-deafened, their families, friends, and community service providers. DHHSC's headquarter office is located in Fresno (serves Fresno County) and has been in operation since 1984. Learn more by visiting www.dhhsc.org.
---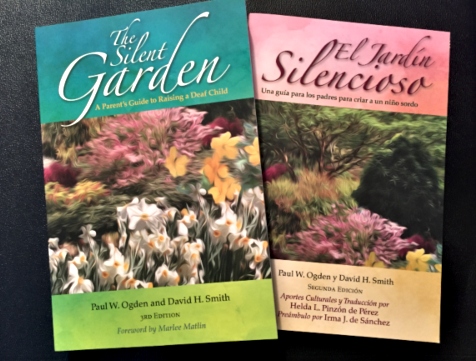 "The Silent Garden: Raising Your Deaf Child" is available in Spanish and English, including in audio format.
Purchase books: