Department of Communicative Sciences and Deaf Studies
National Student Speech Language Hearing Association (NSSLHA)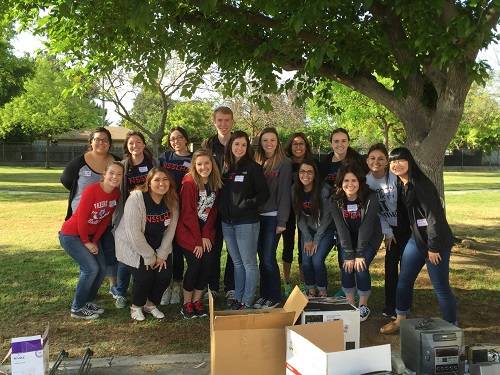 What is Fresno State NSSLHA?
Fresno State NSSLHA is a student-led organization at California State University, Fresno that is affiliated with the National Student Speech Language Hearing Association (NSSLHA). Membership is open to all current students of California State University, Fresno, but mainly consists of students in the Communicative Sciences and Deaf Studies department's major options of Speech­-Language Pathology and Audiology.
Fresno State NSSLHA became a nationally recognized local chapter of NSSLHA during the Spring 2013 semester.
Our Mission Statement
It is our mission to provide the opportunities, information, and connections necessary to facilitate the development of professional, well­-rounded, and responsible speech and hearing science students who are better prepared for careers in the field after graduation.
What are the benefits of being a NSSLHA member?
Fresno State NSSLHA offers many opportunities to its members every semester, including but not limited to volunteering events that benefit the greater Fresno area, seminars presented by faculty and related-­field
speakers, social events throughout the semester, tours of local medical and clinical facilities, individualized on and off campus volunteering opportunities, and connection and networking opportunities with local people and organizations involved in the Speech and Hearing sciences. Additionally, being an active and involved member of Fresno State NSSLHA indicates to the department faculty that you are personally committed to the profession; which strengthens graduate school letters of intent.
National NSSLHA members enjoy a wealth of benefits offered through ASHA. Included in these benefits are discounts on ASHA­approved/sponsored conferences, discounted NSSLHA-­to-­ASHA membership conversion, and mailings of various publications, journals, and magazines. For more information on the benefits of joining national NSSLHA, visit http://www.asha.org/Members/NSSLHA/Member­Benefits/.
How do I become a NSSLHA member?
Local Membership
To become a Fresno State NSSLHA member, visit our website at
https://sites.google.com/site/fresnostatensslha/home?authuser=0 and fill out our membership form. Membership dues are $15 per semester and can be paid at the semester Kickoff event at the beginning of the semester or to our Treasurer on an appointment basis. More details about membership dues and the payment process can also be found at the link above.
National Membership
To become a national NSSLHA member, go to https://www.nsslha.org/membership/ and follow the instructions provided on the website. The membership fee for national NSSLHA is $30 for first time members (introductory membership) and $60 for returning members per year.
Where can I get more information?
Visit our website at https://sites.google.com/site/fresnostatensslha/home?authuser=0 to learn more about Fresno State NSSLHA, and email us at csufresnonsslha@gmail.com if you have any additional questions.