Central Valley Health Policy Institute
Unequal Neighborhoods: Fresno
Introduction
While Fresno is ranked among the poorest in many regards, many have perceived this be the overall plagues of the city: low air quality, little green space, poor health, low education and poverty. Decades of policies and neglect have created these conditions, but not for all. While some neighborhoods experienced neglect, other neighborhoods had opportunities created for them through forward-thinking vision and policies. However, these policies were creating inequality in Fresno and were historically opposed by many groups of concerned citizens. This pattern created a multifaceted situation of opportunity for some, while furthering the gap between the poor and upper middle class in Fresno. The concept of Unequal Neighborhoods is a framework that sees Fresno beyond one data point. Rather, Fresno is a sum of consequences of policies and exceptions to policies that shaped the city to have some neighborhoods sharing outcomes with some of the best places to live in California and others that are among the most dangerous, unhealthy, and polluted.
Since this inequality was created, we present ways in which groups of people and equitable policies can also help reverse this trend, and thus, positively change the social, economic, and health outcomes for all Fresnans. Advocates, decision-makers, academics, and citizens can learn from the history and consequences of policies to help model potential consequences of proposed initiatives.
Policy Timeline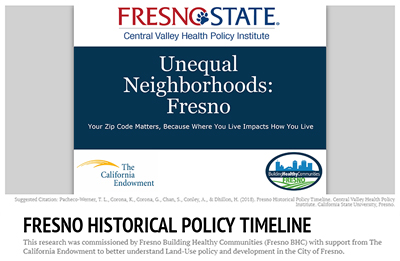 View the Fresno Historical Policy Timeline
Neighborhood Infographics
Neighborhood Inequality is Shaped by Policies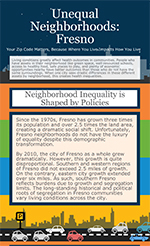 Living conditions greatly affect health outcomes in communities. People who have assets in their neighborhood like green space, well-resourced schools, access to healthy food, safe places to play, and plenty of economic opportunities nearby have better outcomes than those who do not have the same surroundings. When one city sees drastic differences in these different assets by neighborhood, this creates health inequalities.
Click here for Inequality infographic
Unequal Neighborhoods: Neighborhood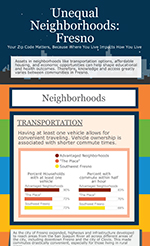 Assets in neighborhoods like transportation options, affordable housing, and economic opportunities can help shape educational and health outcomes. Therefore, knowledge and access greatly varies between communities in Fresno.

Click here for Unequal Neighborhoods infographic
Unequal Neighborhoods: Demographics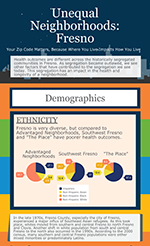 Health outcomes are different across the historically segregated communities in Fresno. As segregation became outlawed, we see other factors that have contributed to the segregation we see today. This segregation has an impact in the health and longevity of a neighborhood.

Click here for full Demographics infographic
Unequal Neighborhoods: Health Inequalities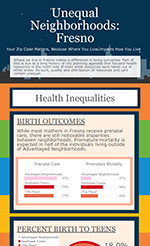 Where we live in Fresno makes a difference in living outcomes. Part of this is due to a long history of city planning agendas that focused health resources in the north side of town while resources were taken out of other areas. As such, quality and distribution of resources and care remain unequal.

Click here for full Health Inequalities infographic
Unequal Neighborhoods: The Environment, Health and Place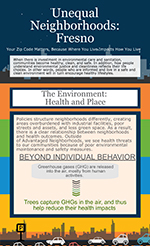 When there is investment in a healthy environment, this can have a positive effect on health. When people have access to green space and plenty of trees and plant diversity, this can help them get healthy and stay healthy. Access to this type of environment takes investment in infrastructure, and in Fresno, not all neighborhoods have the same access to these important environmental assets.

Click here for full Environment, Health and Place infographic
Unequal Neighborhoods: Education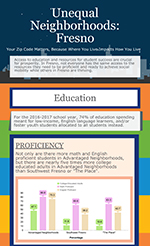 Access to education and resources for student success are crucial for prosperity. In Fresno, not everyone has the same access to the resources they need to be proficient and ready to achieve social mobility while others in Fresno are thriving.

Click here for full Education infographic
Unequal Neighborhoods: Civics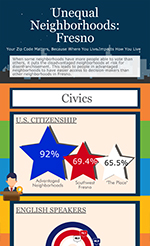 When some neighborhoods have more people able to vote than others, it puts the disadvantaged neighborhoods at risk for disenfranchisement. This leads to people in advantaged neighborhoods to have easier access to decision-makers than other neighborhoods in Fresno.

Click here for full Civics infographic
Webinar, August 13th, 2018, Unequal Neighborhoods: Fresno
Suggested Citation
Pacheco-Werner, T. L., Corona, K., Corona, G., Chan, S., Conley, A., & Dhillon, H. (2018). Unequal Neighborhoods. Central Valley Health Policy Institute. California State University, Fresno.
For more information contact:
Funded by:
This report series was made possible by a grant from The California Endowment in collaboration with Fresno Building Healthy Communities.