About The Silent Garden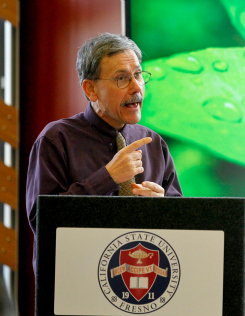 It started with a bold vision. Dr. Paul W. Ogden, author of The Silent Garden: Raising Your Deaf Child and professor emeritus of deaf studies at Fresno State, had a vision to provide community workshops for Deaf and hard of hearing children's families, teachers, interpreters and professionals through an endowed faculty position in the Department of Communicative Sciences and Deaf Studies at Fresno State.
This idea, with the support and encouragement of the dean of the College of Health and Human Services, has now grown into the rich and bountiful educational program touching the lives of countless deaf and hard of hearing children, youth and adults in the Central Valley and throughout the state.
The one singular path in the Silent Garden of an endowed professor in 2008 is now many colorful, vibrant paths. As the Silent Garden continues to grow, each new path resources unlike any other in the region and provides a unique training ground for students in deaf education, as well as sign language interpreting, all with the common goal of allowing everyone, regardless of needs or abilities, to flourish and thrive!
Today, the Silent Garden includes:
the Robert Duncan Nicol Silent Garden Endowed Chair
the Joseph S. Slotnick Distinguished Professorship
The Silent Garden Educational Fund (providing The Silent Garden Lectures free to the public)
the Silent Garden Scholars and Scarlett's Park,which serves deaf and hard of hearing children and youth with special needs
More information can be found on the Resource Center.
The Silent Garden is a vital program within the Department of Communicative Sciences and Deaf Studies and works collaboratively with the department to academically prepare future professionals in Deaf education and sign language interpreting.
The Department of Communicative Sciences and Deaf Studies at Fresno State is well known for its leadership in D/deaf education and offers undergraduate studies in D/deaf education, sign language interpreting, audiology and speech language pathology and graduate studies in both D/deaf education and speech language pathology.