Department of Physical Therapy
Message from the Chair
Welcome to the Fresno State Department of Physical Therapy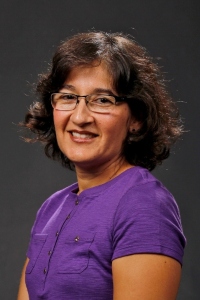 Thank you for your interest in Fresno State's Department of Physical Therapy! Our program has a proud
history of excellence. Nestled in the heart of the Central Valley, our program maintains strong bonds
with the local community through service and interprofessional collaboration and as a member of the
public state system it is the most affordable Doctor of Physical Therapy Education. Our hardworking
faculty and staff have a heart for students and are dedicated to their success. Our distinguished faculty
eagerly serve students and create the best learning experience aimed at developing innovative and
dynamic clinicians for today and tomorrow's challenging practice.
Day one, our students' focus is on the patients they will someday serve as they develop into skilled
clinicians demonstrating compassion, informed clinical reasoning, and ethical behavior with an
equitable/just mindset. Because of our low student to faculty ratio and individualized attention, we are
grateful for our exceptional licensure exam pass rate that is consistently above the national average and
for the 100% employment rate with overwhelming demand for our newly licensed doctoral students.
Our graduates work in an array of clinical practice settings and many go on to pursue residencies in
specialized practice areas, manage clinics and assume roles of advocacy within the profession and for
the care of the patients we serve.

I wish you the best as you embark on this exciting journey toward becoming a professional in one of the
fastest growing fields that holds great opportunity, growth and the ability to change the lives of people
in need. Fresno State can be the home and the place that makes you a part of the future of physical
therapy. Your first step starts here!!!!
Sincerely,
Cheryl Hickey, MPT, MS, EdD
Professor and Department Chair
Phone: (559) 278-3030
E-mail: cherylba@csufresno.edu
The Physical Therapy program at Fresno State University has 30+ years' experience transitioning from a BS degree (1973) program to MPT program in 1993. In 1997, the Commission on Accreditation in Physical Therapy Education granted accreditation for a 3 year Masters in Physical Therapy. In 2000, the Department of Physical Therapy proposed a revised two-year 68 unit MPT degree program. In addition the program proposed a 124-unit B.S. degree with a pre-Physical Therapy option, which incorporated the prerequisites coursework for the MPT program. These changes enabled the program to develop and identify a larger undergraduate applicant pool, streamline the student's preparation and completion of the MPT program, and bring our program in line with current Commission on Accreditation for Physical Therapy Education (CAPTE) requirements for post-baccalaureate professional education in Physical Therapy.
In response to the changes in health care and increased responsibilities for practicing physical therapists, PT schools nationally began to implement a Doctor of Physical Therapy degree. However, as a CSU institution, Fresno State was not able to offer an independent DPT degree program. Therefore, in response to this change, Fresno State University was the second public university to offer the joint professional DPT in California in 2008. Students holding a MPT from Fresno State were given an opportunity to return to Fresno State for an additional 9 months to obtain a DPT.
With a change in the legislation allowing CSU's to offer DPT programs, Fresno State received approval to implement a 3 year entry-level DPT program in fall 2012. With the execution of this program the undergraduate IHRS program was discontinued and the joint DPT program with the University of California San Francisco will no longer be needed as of spring 2014 since all students graduating from Fresno State will hold a DPT. There is no longer an MPT program at Fresno State.
The mission of the department is to graduate a diverse physical therapy practitioner of the highest quality, committed to life-long learning, self-development, and critical inquiry, with the ability to apply researched data and physical evidence in order to function autonomously in current and future culturally sensitive healthcare environments. The professional physical therapy education at Fresno State seeks to stimulate scholarly inquiry and critical thinking, while supporting and encouraging research and its dissemination, to develop future leaders of the profession engaged in the community who will enhance the economic vitality and quality of life for all.
In concert with the American Physical Therapy Association APTA's Vision Statement for the Physical Therapy Profession (2013), we will prepare graduates to examine, evaluate, and establish a diagnosis and prognosis within the scope of physical therapy practice; implement and manage a physical therapy plan of care; and provide a sound rationale for evaluation and treatment procedures, based on a theoretical framework based upon evidence.
APTA Vision Statement
American Physical Therapy Association APTA's Vision Statement for the Physical Therapy Profession (2013):
"Transforming society by optimizing movement to improve the human experience."