Department of Recreation Administration
Alumni
The Department of Recreation Administration would like to congratulate all of our graduates. We wish you continued successes as you embark upon your professional journey. Please keep in touch with us and consider joining the Fresno State Alumni Association.
2023 Outstanding Alumni Award
Cheryl Vines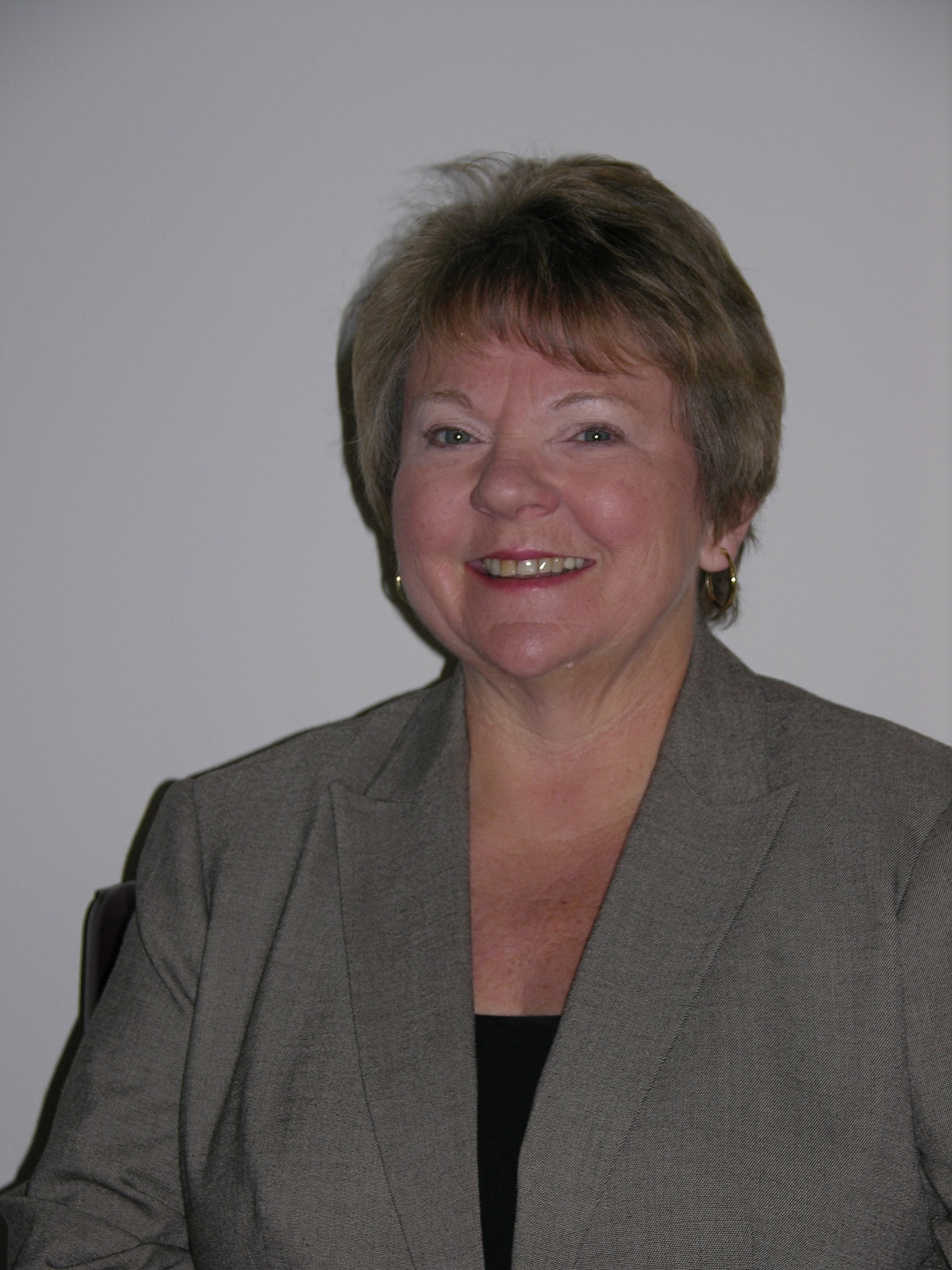 Cheryl graduated from our program in 1976 with a degree in Therapeutic Recreation and began her career working as a recreation therapist at Fresno Community Hospital and Santa Clara Valley Medical Center.
She worked with patients with physical disabilities such as SCI, stroke, amputation, and other musculoskeletal, neurological, and neuromuscular disorders. Cheryl helped to found and create the California Center for Rehabilitative Services in Fresno in 1985. This outpatient rehabilitative program is now known as the Community Outpatient Rehabilitation Center (CORC) at Community Regional Medical Center. She served both as director of Recreation Therapy and Coordinator of Residential Services at this agency. She went on to serve as a case manager for the Arkansas Spinal Cord Commission and the New Medico Reentry Services of Arkansas before becoming Executive Director of the Arkansas Spinal Cord Commission. Since 2016 Cheryl has served as the Director of Research and Education for the Paralyzed Veterans of America (PVA), Washington, D.C. PVA is a congressionally chartered veterans' organization and the leading advocate in ensuring quality health care, research and education, benefits and civil rights to veterans of the armed forces who have experienced spinal cord injury (SCI) or dysfunction. In her role she oversees all areas of the Research, Education, and Clinical Practice Guidelines Program, including the Spinal Cord Injury Research Foundation (SCRF), the Consortium for Spinal Cord Medicine Clinical Practice Guidelines, and the Education and Training Foundation (ETF).
Throughout her career, Cheryl has been amazingly involved in her community. Most notable is her four decades of on-going work with the National Wheelchair Basketball Association, where she has served in numerous capacities including as a team representative, Commissioner's Advisory Board member, Tournament Selection Committee Chair, and a National Functional Classifier. A few other notable highlights from her long list of community involvements includes the Quality of Life Review Board for the Craig H. Neilsen Foundation and the Review board of the Spinal Cord Injury Research Program (from National Institutes of Health).
As a student, Cheryl was active in intramural sports, including the cricket club. She also was active in the majors' club, the student Recreation Association, holding several offices, and participated in Camp Bulldog, a class project that was part of the curriculum for the Recreation Administration major, providing children with disabilities a weeklong camp experience at a local summer camp with recreation students designing, implementing and leading the camp and all its activities. Also while in the major, Cheryl got involved with the Fresno Red Rollers, a local wheelchair basketball team. Her experience at Camp Bulldog and with the Fresno Red Rollers spawned a lifetime of involvement in adaptive sports, those experiences combined with her internship in recreation therapy with Fresno Community Hospital led to her first job as a recreation therapist in physical rehabilitation and her career trajectory has sprung from there.
2018 Outstanding Alumni Award
Jonathan Cowen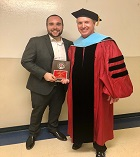 Mr. Cowen was a student at Fresno State studying Recreation Administration, with an emphasis in Sports and Entertainment Facility Management. He graduated from the University with his bachelor's degree in 2009. During his undergraduate career, he was also part of Fresno State's Bulldog Marching Band
He took that love of entertainment and applied it to his career, but his quest to be an event manager did not come easy. After his 2009 graduation, Mr. Cowen moved back to his hometown of Napa and took on any part-time position that he could get in the event world. He remembers applying to more than one hundred jobs before landing his current position. His long hours of work finally paid off when he received a job offer at the Ontario Convention Center in Southern California.
After almost two years in Ontario, Mr. Cowen wanted to expand his horizons, so he applied to be an event manager at the Los Angeles Convention Center. Coincidentally, the boss for the Convention Center was also conducting interviews for the Staples Center. After meeting her at the interview she offered Mr. Cowen two job positions as an event manager for both centers.
Mr. Cowen is proud of the work he's accomplished thus far, and credits the education he received at Fresno State for getting him there. For students in the field, Mr. Cowen advises them to keep pursuing the profession, saying their efforts are bound to pay off.
2017 Outstanding Alumni Award
Theresa Johnson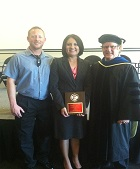 Theresa is 2001 graduate of the Recreation Administration program with an emphasis in Leisure Service Management with Certificates in Special Event Planning and Serving At-Risk Youth.
She has 15 years of experience in public recreation having worked for the Cities of Kingsburg, Selma and San Gabriel located in Southern California.
In 2013 Theresa began working for the City of Kerman as the Recreation Coordinator. There her duties include implementing youth and adult programs, summer day camp, aquatics, teen programs, youth performing arts program and community wide special events. In addition to her duties with Kerman Theresa is an active member of the California Park and Recreation Society, currently serving on the District 7 board as Vice President.
Through her involvement with CPRS Theresa remains connected to Fresno State. She has served as a panel member for the mock interview process, participated in the fall and spring agency fairs and worked with faculty to recruit student volunteers for the District 7 Vendors Fair & Park Rodeo and the upcoming Summer Leaders Workshop.
2016 Outstanding Alumni Award
Toni Lopez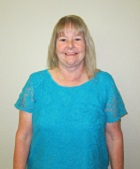 Toni Lopez received her B.S. in 1985, a few years later receiving her M.S. in Therapeutic Recreation from San Jose State University. A nationally and state certified recreation therapist, for the past 30 years Toni has worked for the Veterans Administration Central California Healthcare System. As a recreation therapist in in the Community Living Center, Toni works to improve the physical and emotional well-being of the resident's as well as to impact their overall quality of life.
Toni has been a vital member of our alumni network and has contributed significantly to the department and profession. Toni is a member of our Department Advisory committee, has assisted with the annual Central California Therapeutic Recreation Symposium, is a guest speaker in classes, and has invited countless students to complete volunteer and fieldwork hours at her facility. The department is most appreciative of Toni's willingness to supervise interns and the outstanding job she has done mentoring students through the final phase of their education. Toni has supervised more than 30 interns over the course of her career, including three of our graduates.
After 30 years of service, Toni has recently retired. The department is grateful for all she has done to promote the department and support our students. You will be missed.
2015 Outstanding Alumni Award
Dr. Jody Hironaka-Juteau
Dr. Jody Hironaka-Juteau was appointed interim dean of the College of Health and Human Services in July 2013, having served as associate dean since 2010. Since arriving at Fresno State in 1999, she has moved through the ranks from assistant to full professor in the Department of Recreation Administration and served as chair from 2007 to 2010.
Dr. Hironaka-Juteau regularly presents at regional, national, and international conferences on topics such as culture and diversity, inclusion, cause-related fitness and wellness, experiential education, and action research. She has established an active record of service resulting in the Provost's Recognition for Achievements in Service in 2001 and 2006. In 2003, Dr. Hironaka-Juteau was awarded the Outstanding Educator Award by the California Park and Recreation Society Therapeutic Recreation Section.
As an active member on campus, Dr. Hironaka-Juteau has served in the Academic Senate, the President's Task Force on Internationalization, the President's Committee on Disabilities, the University Budget Committee and the Gender Equity Task Force as well as on numerous other campus committees. Most recently, she was appointed chair of the President's Commission on Human Relations and Equity by President Joseph Castro.
She is recognized for her expertise and experience in the areas of diversity and inclusion training and collaboration.
Outside of the academic setting, Dr. Hironaka-Juteau has over 20 years of experience as a certified therapeutic recreation specialist working with children, teens, and adults in hospital and community-based settings. She has worked in the areas of physical medicine and rehabilitation, mental health, sensory impairment, and developmental disability. She even hosted a regular segment promoting fun family activities for the KVPT Valley Public Television parenting show 0-5 in 30 Minutes.
Dr. Hironaka-Juteau earned a doctoral degree in Educational Leadership and Change from the Fielding Graduate University, and a master's degree in Education and bachelor's degree in Recreation Administration from Fresno State. She has attended the Institute for Women in Higher Education offered by HERS and the Harvard Graduate School of Education Management Development Program. She is also an alumna of the Leadership Fresno Program and the American Council on Education (ACE) Fellows Program.
2014 Outstanding Alumni Award
Brent Smither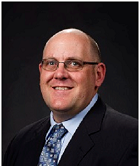 Brent Smither was our 2014 Outstanding Alum. Brent is a 2001 graduate of the department. Whether as a river rafting guide, a church group mentor, a challenge course facilitator, or afterschool program coordinator, Brent is a passionate advocate for outdoor recreation and experiential education. For more than ten years, Brent has served as a project specialist for the Fresno County Office of Education, in this capacity, Brent is able to provide the students of Fresno County with outdoor, environmental, and experiential learning opportunities which include an adventure race, the Fresno County Leadership Academy, and access to afterschool programs to name of few of the projects he manages. We are also fortunate that he impacts the lives of the students in our department. Brent serves as a member of our advisory board, is an internship supervisor, and has partnered with our faculty to create evaluation projects for students. For his contributions to both the community and our department, we pleased to recognize Brent Smither as the 2014 Outstanding Alum and our 2014 Community Hero.
2013 Outstanding Alumni Award
Rico Guerrero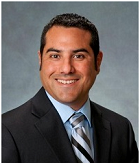 The Department of Recreation Administration is proud to recognize Rico Guerrero as our 2013 Outstanding Alumni. Rico is a 1998 graduate of the program. After wading through the Florida swamps for his internship, Rico returned to the Valley and spent 16 years with the Boys and Girls Club of Fresno County. There he held a number of roles which allowed him to oversee the expansion of clubs throughout the county and collaborate with cities and other community-benefit organizations to maximize youth services. Moving from service provider to fund developer, Rico now serves as Donor Relations Coordinator for the Fresno Regional Foundation where he works with individuals throughout the Valley to build a healthy, vibrant and prosperous region. He also sits on a number of boards in the area including the Sequoia Natural History Association and the Dean's Advisory Council for the College of Health and Human Services. We are fortunate to have Rico's time and expertise in our classroom as well as he serves as a lecturer in our department and is a great resource for both our faculty and students. In addition to being named Outstanding Alumni. Rico was also this year's recipient of our Community Heroes recognition and our Faculty Recognition award.
2012 Outstanding Alumni Award
Steven Aoki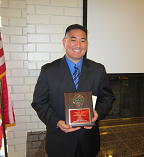 Steven Aoki is a passionate advocate for the recreation administration industry and the young professionals eager to work within sports and entertainment facility management. He is the representative example of a professional with limitless enthusiasm and a commitment to excellence. Steve graduated from Fresno State in 1998. He started working at Selland Arena as an Usher / Ticket Taker / Parking Attendant June 1998 to understand what front-of-house employees go through during events. He began an internship at Selland Arena Fall '98 and was hired on part-time as an Event Specialist by the city the day after his internship ended.
On January 1, 2000, Steve was hired on with the City of Fresno as Events Specialist / Parking Manager. He joined SMG in 2003 with the opening of the Save Mart Center as a Parking Manager. In June 2004 he switched to Event Coordinator. His first event coordinated with the Crusty Demons (Indoor FMX over Cement). Currently, Steve is the Event Manager for SMG at the Save Mart Center. This position has allowed him to work with internationally known celebrities, their tour managers and event promoters.
Adoring fans pay money to attend events; however, it is Steve's unbridled dedication that allows the facility to come to life. This dedication has not gone unnoticed within the industry – in September of 2006, a parking snafu prior to a Raiders game at the Oakland Coliseum caused a situation in dire need of remedy. Steve was summoned for a game but ended up coordinating their parking for the entire season, while still coordinating events at SMC.
Steve is active within our Department, serving as an internship advisor, and as a guest speaker / venue host for a variety of classes. Most appreciated is his contribution to our students' who have completed their hands-on internship at the SaveMart Center. This service is invaluable for our students and the department is indebted to Steve for his efforts.
2011 Outstanding Alumni Award
Jerry and Sarah Reid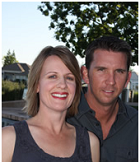 Sarah Callen Reid was one of those students who came into the program knowing precisely what she wanted to do. Upon entering the major, she already had several years of experience in municipal recreation, making her a frequent contributor to class discussions as she was able to provide valuable insight and engage her applied learning throughout her tenure in the program.
Sarah is a passionate advocate for recreation. As Community Services Superintendent for the City of Reedley, she is responsible for enhancing the quality of life for all Reedley residents. But her advocacy for recreation extends far beyond Reedley. Sarah made significant contributions to the recreation profession, serving in multiple roles on the California Park and Recreation Society District 7 Board of Directors, including serving as President.
Sarah has been an advocate for our Department as well. She regularly supervises interns and works with students completing evaluation projects. Most appreciated is her contribution to our students' preparation for internship. Several years ago, Sarah and one of her fellow program alums noticed a problem with the RA graduates they were interviewing. They knew the students had the skills, but the students were not effectively presenting themselves to the interviewers. Sarah came to the department and offered to help out. Since then, each semester Sarah has organized interview panels for our students. She recruits community professionals to serve, organizes the day, meets with students in advance to prepare them, and then sits through interviews of all the students. This service is invaluable for our students and the department is indebted to Sarah for her efforts.
Jerry Reid is the representative example of unbridled energy and enthusiasm. Jerry graduated from Fresno State in May of 1998. He holds a Master's Degree in Public Administration from Fresno State as well. Jerry worked for a several valley cities in the recreation field serving as Director of Parks and Recreation for the City of Chowchilla before leaving for Wonder Valley Ranch Resort in 2007. Currently, Jerry is the Camp Director at River Way Ranch Camp, a children's summer and family camp. This position has allowed him to travel internationally for staff recruitment as well as foster staff growth and collaborate with his team to develop unique camp and outdoor education programs.
Similar to Sarah, Jerry is active within our Department, serving as an internship advisor and serving as a frequent guest speaker in classes and at department-wide events. Jerry has been actively professionally as well with his involvement with California Park and Recreation Society (CPRS) for the past 15 years serving, holding every board position within District 7. Additionally, he serve as the Region 3 Representative to the State Board from 2004-2006.
2010 OUTSTANDING ALUMNI AWARD
L. Scott Miller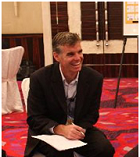 ActionLearning Associates (ALA), founded in 1989, is an international consulting firm dedicated to helping organizations achieve competitive advantage through educational programs that link team and leadership development to business strategy. ALA is recognized as the worldwide leader in the design and delivery of dynamic, high involvement, experiential learning environments for the purposes of executive development. Scott Miller is a Senior Partner and Principal at Action Learning Associates (ALA). Scott designs and delivers programs that skillfully blend relevant classroom content with experiential learning, psychological and behavioral assessments, and various forms of peer and observer feedback. He is particularly focused on translating program experiences into sustained, long term behavioral change through peer coaching and follow-up. In other words, the end of the program is not the finish line. With over 16 years of experience working with global executives across a variety of industries and in over 20 countries, Scott has particular skills and interests in building and coaching high performance teams, leadership development, action learning, and service learning. Additionally, he has created a number of tools and processes to help organizations harness the "wisdom of the crowds" and to drive large scale change and innovation. A sampling of current consulting engagements follows:
Dow Chemical Company - H.H. Dow Academy--Creating our Future: Sponsored by Dow's CEO, Andrew Liveris, Dow Academy utilizes an action-learning approach to engage its high potentials selected from the top 1% of the company. As a team coach, Scott jumpstarts the project teams by introducing a blend of personality assessment tools and experiential activities. He assists the participants in establishing both their individual learning goals as well as the team's rules of the road or operating principles. As the team coach, he facilitates weekly team sessions as the actionlearning team navigates the learning journey and works toward their deliverable to the Office of the Chief Executive (OCE).
National Australian Bank (NAB Group) - Enterprise Leadership Program: Sponsored by NAB's CEO, Cameron Clyne, the Enterprise Leader Program (ELP) is aimed at developing the leadership mindsets and behaviors of the top executive talent from the NAB Group. Participants are gathered from multi-business units all across the globe into a small cohort group of thirty for this two week program. For the ELP, Scott designed, developed and delivers a leadership simulation that clearly highlights the power of enterprise thinking and enterprise behavior as a platform for competitive advantage through the simulation and Scott's facilitation, NAB leaders explore such topics as leading laterally, leading without formal authority, and leading beyond one's sphere of control in order to win as an enterprise. Starting with the CEO and the Senior Team, the ELP will be rolled out to the top 150 global leaders over the course of 2009-2010.
Universityof Southern California- Marshall School of Business – IBEAR (International Business Education and Research) MBA program: Comprised of one of the most diverse selection of students from around the world, the IBEAR program is a unique MBA aimed at an international (non-US) population. Over the past fourteen years, Scott's work with IBEAR has afforded him the opportunity to explore how experiential learning methods intersect with the challenges of cross-cultural diversity. Scott works closely with Dr. Jack Lewis, the Chair of the IBEAR MBA program and Dr. Morgan McCall, the Leadership in Organizations professor, to design a curriculum aimed at building unity and cross cultural competence within this multi-cultural, multi-lingual, and international community. Scott lives with his wife Kara, 7 year old son Nathan and 5 year old daughter Sierra in Crested Butte, Colorado. Crested Butte is a small ski town located high in the Rocky Mountains - a great place to raise a family and spend time teaching his kids about his favorite outdoor pursuits.
2009 OUTSTANDING ALUMNI AWARD
Dr. Andrew Hoff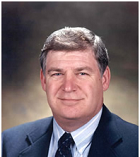 Our 2014 Recreation Administration Top Dog award recipient Dr. Hoff, earned a bachelor's degree in Geography in 1973 and a second major in Recreation Administration in 1975. In 1978 he earned a master's in Recreation. He has been a Fresno State Bulldog for a long time. One could also say that being a bulldog runs in his family as his daughter Shelley and son David are current students and his wife Diana is also an alum!
Dr. Hoff served as City Manager and Director of Parks, Recreation, Buildings and Grounds for the city of Mendota, and he also was the Executive Director of Windstar Leisure Services. He completed his Ph.D. in Recreation and Leisure at the University of Utah in 1989 and returned to Fresno State to teach part-time and then full time.
Dr. Hoff taught the very popular RLS 80 course taking students on a variety of trips to connect them with outdoor recreation opportunities in our region. He has amazing knowledge of the National Parks and Forests and is an avid outdoorsman having backpacked Mt. Whitney. In addition to teaching, Dr. Hoff was actively involved in faculty governance on campus serving on numerous committees and task forces. He served as President of California Society of Park and Recreation Educators, and published articles in the Journal of Leisure Research and the Journal of Recreation and Parks Administration.
The breadth and depth of his experiences, coupled with his expertise in leisure and human behavior, led to the creation of the Life+Work+Links program that focused on life and work balance for faculty and staff at Fresno State. Dr. Hoff's appreciation for quality of life is evident in his devotion his family, and in his active pursuit of many hobbies including car restoration. He was instrumental in establishing the annual faculty and student volleyball game where the faculty had prevailed as champions for years. The Andy Hoff Invitational Volleyball Tournament will always have a very special place in our hearts. Dr. Hoff is one who truly lives leisure philosophy.
Dr. Hoff moved up the ranks serving as the program's coordinator for six years before becoming Associate Dean in the College of Health and Human Services. His insight, communication skills, and keen ability to build a sense of community have served the College of Health and Human Services well since 1999. In fact, he had done such a fine job that in 2005 he was requested to serve as interim Dean of the College of Engineering, which resulted in the successful revitalization of what is now known as the Lyles College of Engineering. In 2007 he returned to the College of Health and Human Services as Associate Dean and in 2009 he then became the Dean.