Department of Recreation Administration
Welcome to the EDGE Challenge Ropes Course
We are open! As of May 15, 2021 we are now conducting Face-to-Face Leadership programs on the challenge course! Call or email us for details on how to reconnect and bring your team or group out to the course.
About the EDGE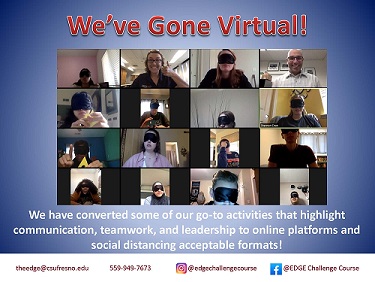 Since March of 2020, we have been developing and delivering virtual programming and social distancing acceptable formats with many of our go-to experiences that highlight better and more effective communication and collaboration amongst virtual teams and groups. These programs promote meaningful conversations and relationships far from the average, stale and boring, face-to-face or virtual Zoom calls people are exposed to on a regular basis.
We realize that nothing can replace the experience of a shared experience of you and a partner jumping from a pole, 30 feet off the ground, while your teammates hold the rope that supports you and encourages you through you stepping outside your comfort zone, but we also recognize that virtual environments are our new reality for the foreseeable future.
We believe that our strength lies, not in the physical component of the a challenge course, but the learning and developing we facilitate that allows people to make life connections that empower them to be better leaders and teammates. Now more than ever, we need to come together to grow and help our communities through these unprecedented times. Because of this, we have virtual and social distancing acceptable programs that can assist your team to be the best they can be.
Give us a call, we would love to share what we have to offer!
The EDGE (Experientially Designed Group Effort) program strives to be the premiere leadership and personal effectiveness experiential learning program in the Central Valley. It is a program that responds to a pressing need in today's unpredictable world - the need for effective leaders in all professions and organizations. Using a centrally located ropes course as the base of operations, the program offers group-oriented activities that foster teamwork, leadership, self-esteem, creativity and personal awareness. Beginning with energizing activities, the group involved moves through a series of low element initiatives that foster problem solving, trust, and cooperation. Through these activities, the group builds a foundation for working together and individuals learn introspective techniques for leadership and interpersonal skills. Then individuals, with the support of the group, tackle the culminating experience, the high ropes elements.
The EDGE course combines the latest practices in leadership and personal effectiveness education. Aims center on improving goal setting techniques, leadership, active listening, communication, interpersonal skills, problem solving, decision making, and idea development. Enhanced self-awareness is promoted through direct feedback and reinforcement.
What's waiting at the EDGE?!
Low Rope Elements
The EDGE facility is comprised of several utility poles connected with cables. Low elements are just inches off the ground and are set up to provide groups with intriguing problems requiring some physical effort but primarily the collective wit and cohesiveness of group members.
High Rope Elements
A group's experience may also include activities focusing on individual perceived-risk challenges. Through a supportive atmosphere provided by facilitators and group members, participants have the option of taking themselves to the EDGE by participating in several challenges as high as 35 feet off the ground. Some of these challenges include leaping off a 30-foot pole to grab a object or balancing across a 25-foot log. These peak experiences provide the participant with many transferable insights which are processes in a non-threatening manner.
Got questions?
Our facilitators know that trust, support, and security, both emotional and physical, are essential to a successful experience. Safety is an integral part of the program. Facilitators are thoroughly trained in standardized risk management procedures and safety is firmly entrenched in every facet of the EDGE experience. The course is inspected and ACCT certified annually; routine inspections are conducted daily and monthly.
Only you can make that decision. We all have our own individual thresholds. All EDGE activities are challenge by choice - an acknowledgment that each individual has a right and responsibility to choose his or her own level of participation. None of the facilitators or group members will prompt you to do anything beyond your willingness. That kind of supportive environment is essential in order for learning to occur.
Student Organizations
Fraternities & Sororities
Athletics Teams
College Academic Programs
Youth Groups
Community Organizations
Business & Corporations (see our Professional EDGE page)
---
Contact us to schedule a course!
Ryan Soares
Director
rsoares@csufresno.edu
559.949.ROPE (7673)
For general questions, contact theEDGE@csufresno.edu
To receive this information in an alternative format, contact the email address above. For additional informaton, visit our Programs and Forms page.