Department of Social Work Education
Associations and Organizations
Plug Into a Student Association
The social work students at Fresno State have created and organized a variety of student organizations. Students are free to participate in as many of the organizations as they choose, regardless of the mission or focus of the organization.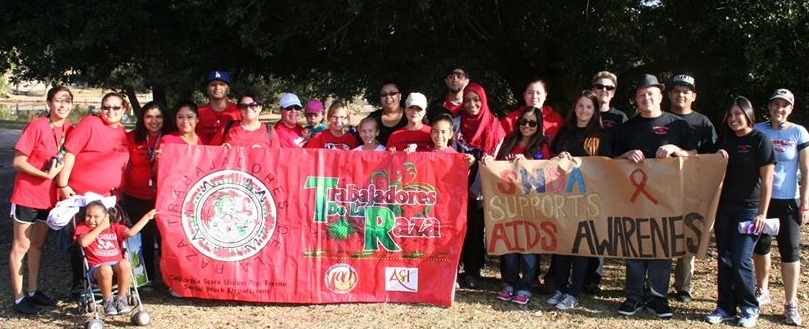 Consider joining and participating in the activities of these progressive and active student organizations. It provides excellent networking opportunities as well as membership benefits, both of which can contribute to your success long after graduation.
The social work student organizations are listed below.
The Social Work Student Association is an organization composed of undergraduate and graduate social work students. The organization has been recognized by Associated Students Inc. (ASI) since 1981. The purpose of the organization is to provide the social work student with a forum to facilitate interaction with the administration and faculty of the Department of Social Work Education, with the community outside the university, and with each other to instill the desire for self-improvement, scholastic excellence, betterment of the profession of social work, and social action in the community.
Contact
TBA
Advisor Contacts
Dheeshana Jayasundara
djayasundara@csufresno.edu
Marcus Crawford
marcuscrawford@csufresno.edu
Governing Board
TBA
The African American Social Work Student Association (AASSWA) is a student group composed of graduate and undergraduate social work students. The members of the organization have committed themselves collectively to the interest of improving social conditions and developing an awareness of the African American individual lifestyle, the African American family, and the African American community. The student group also provides academic and other supportive services to its fellow students enrolled in the department.
We will be partnering with NASW-CA throughout the semester, utilizing sponsorship opportunities to organize activities and events lifting Black individuals and communities, as well as promoting anti-racism within social work.
We welcome and encourage students, staff and faculty to participate in sharing their interests and concerns, in a larger effort to develop an agenda that will benefit our Black and African-American students, while advancing racial justice within our community.
Hope to see you there!
Contact
TBA
Advisor Contacts
Cheryl Whittle
cherylw@csufresno.edu
Travis Cronin
travis@csufresno.edu
Governing Board
TBA
Trabajadores de La Raza is an organization composed of undergraduate and graduate social work students. Founded in 1969, T.R.'s two-fold purpose is to encourage and promote involvement of Hispanic social work students in academic, community, and social work issues, and to serve as a support system for the Hispanic students enrolled in the social work program at Fresno State.
We are excited to announce that TR is back and welcomes you to our meetings! We understand that this past year has been difficult for everyone due to the pandemic, postponed graduations, and online courses. We want to say that we are still here for you!
Contact
TBA
Advisor Contacts
Maggie Armistead
marmistead@csufresno.edu
Estella Saldivar
esaldiva@csufresno.edu
Governing Board
TBA
The Asian Social Work Student Organization (ASWO) is a group comprised of undergraduate and graduate students enrolled in the social work (SW) program at Fresno State. Being a social work organization, we encourage and invite any non-social work majors to be a part of our club. Founded in 1989, the purpose of the group is to promote networking and the involvement of its members in academic and community-related social work issues. Additionally, ASWO serves as a safe space for its members to build community with each other, provide educational and social support, and resources for its group members.
ASWO meetings are held the first Friday every month from 5:00-6:00pm.
The president will send out email notifications to all members and students in regards to upcoming events and meeting dates and time.
For more Info, please see the ASWO board down the hall of PHS (in between the men's and women's restrooms).
Contact
TBA
Advisor Contacts
Bee Yang
beey@csufresno.edu
Yeng Xiong
yxiong@csufresno.edu
Governing Board
TBA
This student-led organization provides students with the opportunity to meet once a month and discuss various aspects of gerontology. Students are encouraged to be involved in professional organizations such as the California Council on Gerontology and Geriatrics, the American Society on Aging, and with members of the aging network in the Fresno area. Students with a minor in gerontology are encouraged to join this association. Please see Dr. Helen Miltiades for more information if you are interested in joining.
Students involved in this organization are given leadership opportunities and work to improve the lives of older adults in the community. They organize a yearly symposium on aging issues that includes community agencies and community dwelling older adults.
Advisor Contacts
Helen Miltiades
hmiltiades@csufresno.edu
The Phi Alpha National Honors Society - Chi Nu Chaptar is composed of undergraduate and graduate social work students. The purpose of this organization is to promote a closer bond among students of social work and to enter into more intimate fellowship with those dedicated to the promotion of humanitarian goals and ideals by a professional group which quality education preparation is deemed imperative and resolve to sponsor a Chapter of Phi Alpha National Honor Society, thereby to foster high standards of education for social work and to invite into membership those who have attained excellence of scholarship and distinction of achievement as students of social work. Membership in the organization shall be open to only social work students-enrolled in California State University, Fresno.There shall be other requirements for admission to regular membership as deemed by the CHI NU Executive Committee. Each regular member has equal rights and privileges.
Chi Nu meetings for 2022-2023 TBA.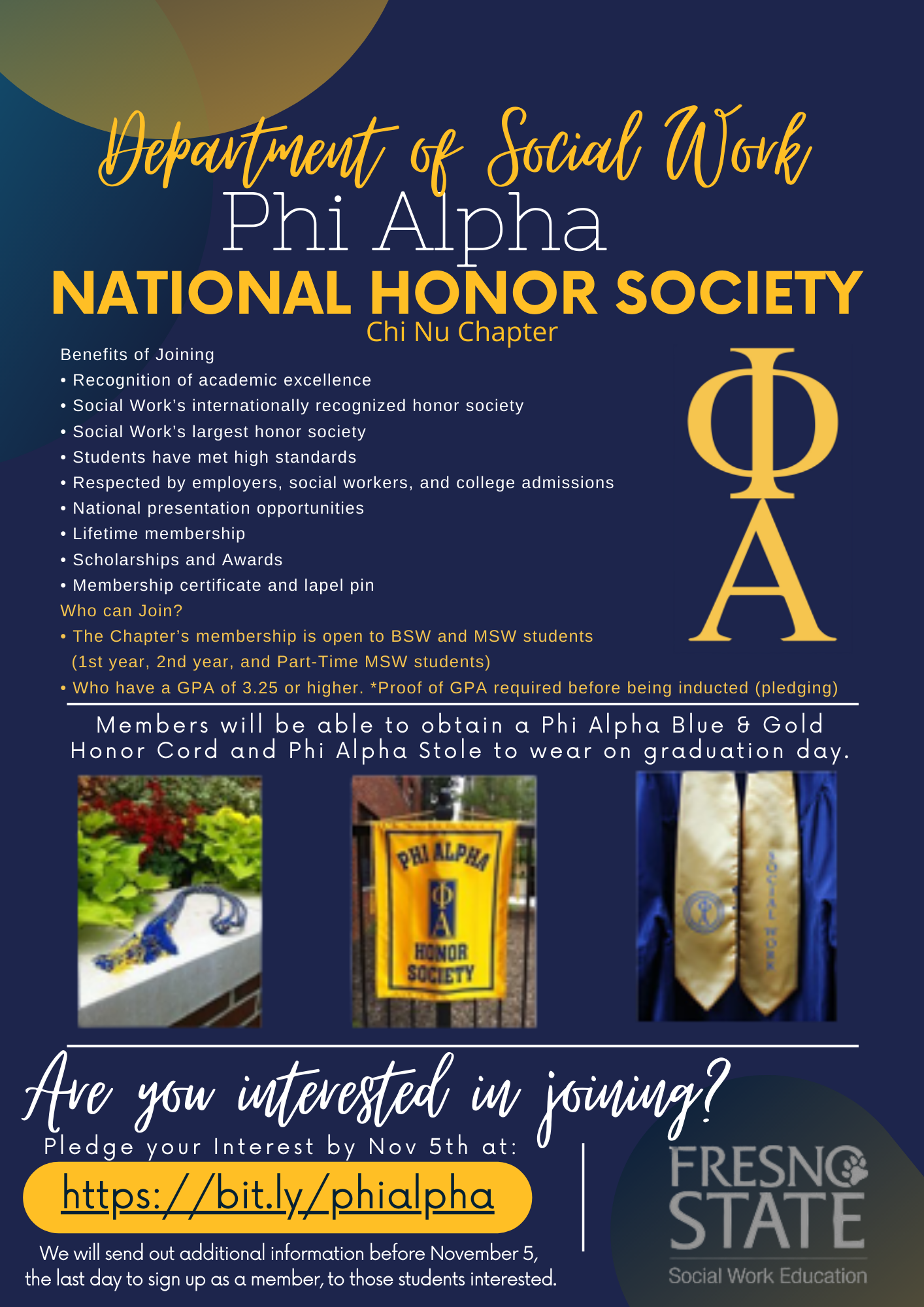 Contact
Janet Barreto jgarcia0924@mail.fresnostate.edu
Advisor Contacts
Candy Madrigal
cmadrigal@csufresno.edu
Governing Board
President - Janet Barreto jgarcia0924@mail.fresnostate.edu
Vice President - Jose Cruz josejcruz@mail.fresnostate.edu
Treasurer - Jennifer Lenches
Secretary - Andrea Feria
Recruitment & Engagement - Daphne Segura
Social Media - Carlos Mendoza
Outrerach Representative - Xilan Yang
DSWE Alumni Chapter
All past, current, and future graduates of Fresno State are automatically a member of the Fresno State Alumni Association. There is no fee, cost, or membership dues.
The Department of Social Work Education at Fresno State has established a DSWE Chapter within the Fresno State Alumni Association. There are no dues or costs to join. If you are interested in joining us at our next meeting, please contact any of our governing board.
By joining the DSWE Chapter, you will automatically be notified when there are special events, speakers, training opportunities, and much more. We hope to establish an online database of our alum in an effort to enhance networking opportunities and serve the needs of the California Central Valley, as well as simply keep in touch with our peers and colleagues. Please consider joining!
Contact
TBA
Advisor Contacts
Maggie Armistead, Campus Liaison
marmistead@csufresno.edu
Governing Board
TBA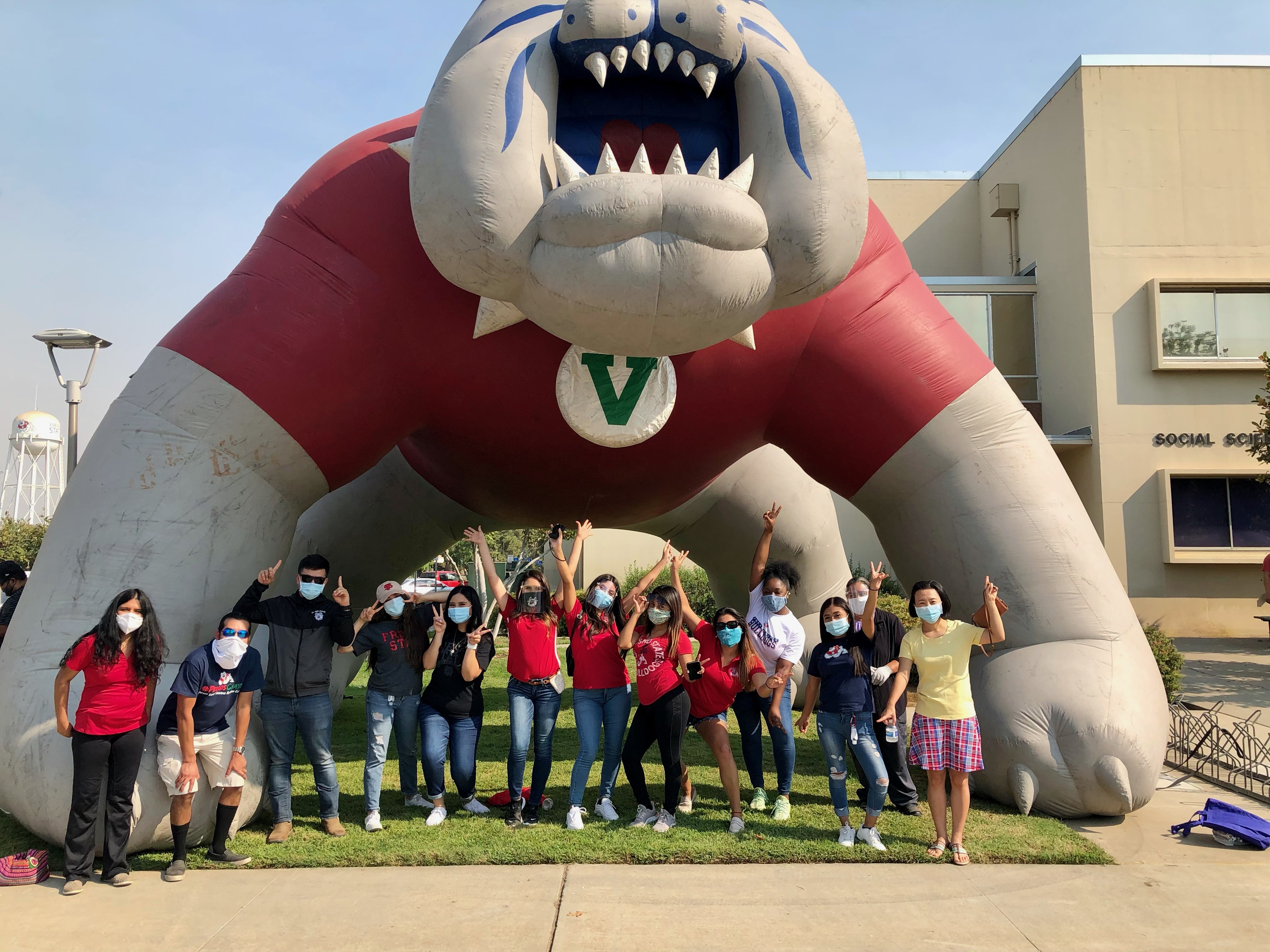 Connect with the Social Work Department on Social Media
We share a large quantity of information on our Facebook and Twitter accounts. Information such as job opportunities, events, reminders, and articles of interest to you as a future social worker. Like us or follow us today!
Also, we encourage you to subscribe to our College of Health and Human Services Blog to stay informed.